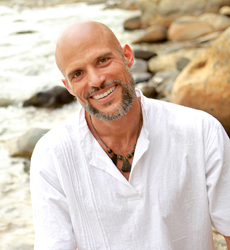 Now Is The Time To Awaken Your Full Potential!
(PRWEB) April 08, 2017
JuanPa's mission is to create change - through impacting millions around the world to bring people back to their natural state of bliss, harmony and abundance.
JuanPa has been submerged in spirituality and healing since the age of nine, due to the health of his brother, suddenly deteriorating; the doctors diagnosed that he was going to die within a year. His brother had severe epilepsy that was burning his brain very fast and they didn't know how to control it, no matter how many chemicals they would give him.
JuanPa then went with his family on a mission to look for healers and Shamans around the world that could help his brother in other ways. This opened him up to a world of healing and infinite possibilities that he couldn't even dream existed.There were a lot of experiences that opened him up and gave him hope that there were always other options. This was fascinating for JuanPa, not only because his brother was slowly recovering, but also it ignited the healing path within him. He would go with his brother to every healing session and then get so ignited, that every workshop his mother attended for spiritual growth; he wanted to go with her. Since the age of 16, he started doing yoga and reading all kinds of books in metaphysics and self improvement; always willing to know more so he could help; not only his brother, but the people around him.
"Too many people in the spiritual world are only focusing on the 'positive side' of life. They're all 'fluffy' and aren't willing to look into the shadows; where real change is created. That's where I'm different. I go 'all in' with people and create long lasting change from the core."
At aged 18, JuanPa went into a state of low self esteem due to his old childhood traumas; going deep into depression and drug addiction. Some months were enough to show him he really needed help, so he travelled all the way to Italy to study and grow in a spiritual community. After two years, he became the leader of a community based in Costa Rica; where he found his passion for personal development and for helping people: from lost teenagers from the streets to men that were suicidal. JuanPa's passion for self-realization and the joy to help others led him to study Shamanism, Chinese Medicine, Tantra Philosophy and Energy Healing with different teachers from around the world. He then became certified in: Holistic Yoga, Bio-Nutrition, Kinesiology, Therapeutic Massage, Master Reiki, Sound Healing, Health Coaching, Qi Gong, Bio-energetics, Crystal Therapy and other Healing Arts.
"You are the answer you have been looking for."
After seeing these incredible, miraculous results with his brother (he has a normal life and has lived 30 more years than what the doctors expected); JuanPa continued his studies around the world. He opened his own yoga-healing center where he has shared workshops, teacher trainings, immersions and retreats. He has impacted tens of thousands of people; teaching in different countries and festivals for more than 15 years. JuanPa is now the director and main teacher of Kawoq Conscious Living School - an internationally connected institution without walls - where the main purpose is to awaken humanity's full potential.
"We can manifest the life of our dreams, but first we need to release everything that is holding us back from who we really are."
JuanPas training is an alchemy: an immersion and a conscious living coach training program focused in detox and regeneration, longevity, energy cultivation and a blissful, conscious lifestyle. Students go through a process of deep transformation to let go of old beliefs and patterns. They learn different techniques that release past traumas and wounds from the root; from the core. They learn different methods to let go of this 'stuck' energy in their bodies, in their organs, in their brains; and transform this energy into inspiration and creation. The instructors he trains receive the necessary tools to transform their lives and to be able to provide personal transformation to their clients. They are submerged in different paradise settings around the world where they enjoy beautiful oceans, pristine rivers, jungles, mud baths and many other gifts from heaven on earth.
As a visionary and international speaker, JuanPa's intent is to empower people to create abundance in every area of their life including: health, love, finances and impact. With his committed followers, he inspires people to take action and to awaken the leader within. His transformational work is available globally and this can now also be accessed in the comfort of your home. The online courses and mentoring ranges from a series of short trainings, to live interactive online sessions, to extensive high level trainings over longer periods of time.
JuanPa is currently working on the release of his first book. For further announcements as to when the book is available, and to be first in the know, go to http://www.kawoq.org
Catch JuanPas online training where you can also connect to him directly https://www.facebook.com/JuanPabloBarahonaCR