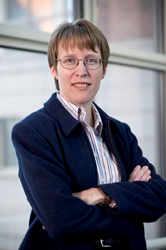 We're thrilled that Dr. Roghmann is part of the VA Maryland Health Care System team,' said Dr. Adam M. Robinson, Jr., director of the VA Maryland Health Care System
BALTIMORE, Md. (PRWEB) April 05, 2017
Mary-Claire Roghmann, MD, MS, staff physician, associate hospital epidemiologist and investigator at the VA Maryland Health Care System and a professor at the University of Maryland School of Medicine, has been awarded the Alvan R. Feinstein Memorial Award from the American College of Physicians (ACP). The award was presented in San Diego at ACP's Convocation Ceremony on Thursday, March 30, 2017, during its annual scientific conference Internal Medicine Meeting.
"We're thrilled that Dr. Roghmann is part of the VA Maryland Health Care System team. Her work on universal issues such as infectious disease control and on the prevention of the spread of antibiotic resistant bacteria can benefit the delivery of health care throughout VA facilities and in the private sector as well," said Dr. Adam M. Robinson, Jr., director of the VA Maryland Health Care System.
Roghmann, an infectious disease physician and epidemiologist, studies how to prevent the transmission of antibiotic resistant bacteria and the development of infections. Her research in antibiotic resistance is focused on a number of interrelated areas including the transmission of multi-drug resistant organisms in nursing homes, host factors affecting MRSA colonization, and the microbiome of the anterior nares and other sites which Staphylococcus aureus (S. aureus) frequently colonizes. She has published more than 75 papers in peer reviewed journals. Roghmann's research is funded by the National Institutes of Health, the Department of Veterans Affairs, the Centers for Disease Control and Prevention, and the Agency for Health Research and Quality.
"Mary-Claire is an excellent epidemiologist who has defined how to prevent infection of S. aureus, especially in nursing homes. She's developed epidemiological data to inform isolation practices that have changed national guidelines," said Dr. Daniel Morgan, chief hospital epidemiologist, Infection Control at the VA Maryland Health Care System and associate professor and University of Maryland School of Medicine.
The Alvan R. Feinstein Memorial Award was established by the ACP's Board of Regents in 2002 in honor of the late Dr. Feinstein, who was internationally recognized as the father of clinical epidemiology. The award is given to an American physician who has made a major contribution to the science of patient care in clinical epidemiology or clinimetrics, involving the direct study of patients' clinical conditions. Awardees are selected based on supporting letters from physicians familiar with clinimetrics/clinical epidemiology and how the nominee's work contributes to the science of patient care. Selections are also based on whether the nominee's contributions have been sustained over time.
The largest medical specialty organization in the United States, ACP members include 148,000 internal medicine physicians (internists), related subspecialists and medical students.
# # #
The VA Maryland Health Care System (VAMHCS) provides a broad spectrum of medical, surgical, rehabilitative, mental health and outpatient care to veterans at two medical centers, one rehabilitation & extended care center and five outpatient clinics located throughout the state. More than 52,000 veterans from various generations receive care from VAMHCS annually. Nationally recognized for its state-of-the-art technology and quality patient care, VAMHCS is proud of its reputation as a leader in veterans' health care, research and education. It costs nothing for Veterans to enroll for health care with the VA Maryland Health Care System and it could be one of the more important things a Veteran can do. For information about VA health care eligibility and enrollment or how to apply for a VA medical care hardship to avoid future copayments for VA health care, interested Veterans are urged to call the Enrollment Center for the VA Maryland Health Care System, Monday through Friday, from 8 a.m. to 4:30 p.m. at 1-800-463-6295, ext. 7324 or visit http://www.maryland.va.gov.