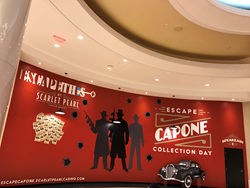 "Scarlet Pearl Casino Resort enjoys thinking outside the box to offer guests innovative ways to be entertained. We are constantly evolving and look forward to seeing exactly how many guests will Escape Capone!"
D'Iberville, MS (PRWEB) April 07, 2017
Scarlet Pearl Casino Resort is very excited to announce an exclusive "Escape Capone, Collection Day" event as part of a continuing partnership with Escape This Biloxi, through May at Scarlet Pearl Casino Resort. This is the second "Escape" event to be held at Scarlet Pearl, establishing a second venue for Escape This Biloxi, and yet another amenity for Scarlet Pearl guests!
Now through May 28, 2017, "Escape Capone" will offer guests 60 minutes of mystery and suspense, as groups of up to 10 people work together to collect $30,000 that Dan Ricca has borrowed from legendary mobster Al Capone. During the height of Prohibition, Dan borrowed the money to open a Speakeasy Bar in Chicago. Capone made a deal with Dan, he was to get a cut of the profits along with the repayment of funds. Dan has not been paying and Capone is upset. If you don't collect the money owed, Al Capone is coming for you!
"Scarlet Pearl Casino Resort enjoys thinking outside the box to offer guests innovative ways to be entertained. We are constantly evolving and look forward to seeing exactly how many guests will Escape Capone!" said Vicki Haskins, Director of Promotions, Events, Entertainment & Players Club.
Escape Capone will run from March 3 – May 28, 2017, Thursday through Sunday. The entrance to the event is located in the Scarlet Pearl Casino Resort hotel lobby, on the "Escape Capone" wall, with the event itself taking place in the Columns Room. Tickets are $25 plus online booking fees and include a free Escape Capone Koozie. Age requirement is 12 years and up. Visit EscapeCapone.ScarletPearlCasino.com for available times and to book tickets.
About Scarlet Pearl Casino Resort: Scarlet Pearl Casino Resort is a privately held company based in D'Iberville, MS. The casino resort features 300 hotel rooms, a Miniature Golf Course, an event center, a luxurious pool and multiple restaurants. In addition to the non-gaming amenities, the casino is home to over 1,200 Slots, including 75 Live Video Poker Machines, 38 Table Games, including Blackjack, Craps and Roulette, and a 10-table Poker Room. The casino opened in D'Iberville, MS December 9, 2015.