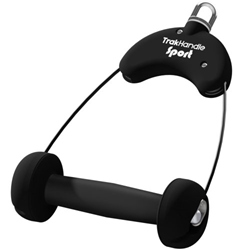 ...the TrakHandle Sport was hands down the most effective in performance and comfort....
Freeport, NY (PRWEB) April 06, 2017
Trak Fitness LLC, the leader in functionally advanced and ergonomically correct cable attachments, announced today that its patented TrakHandle Sport cable handle has been selected by TuffStuff Fitness International, for its new Bio-Arc line of cable based selectorized exercise machines.
Trak Fitness cable handles are the first and only handles that include 3 axes of rotation which allow users to move through multiple planes of motion. By combining the TrakHandle Sport with cable based resistance and its new arcing technology, TuffStuff Fitness Int'l has created a "next generation" line of selectorized exercise machines that maximizes activation for target muscles by optimizing the user's body position throughout the entire range of motion, focusing on bio-mechanically correct movements.
"We tried numerous variations of grips and handles during the R&D phase of the project and found that the TrakHandle Sport was hands down the most effective in performance and comfort, making it an ideal fit for Bio-Arc." said Mike Ryser, National Sales and Marketing Manager of TuffStuff Fitness International.
"Other selectorized exercise machines on the market use lever arms and fixed hand grips which make them extremely rigid in their functionality. Those machines force users into unnatural movement patterns which creates harmful stress on joints and ligaments and limits activation of the target muscles." said David Kristiansen, founder and President of Trak Fitness LLC. "TuffStuff's new Bio-Arc line of machines has alleviated these problems by replacing the lever arms with cables, and incorporating their Bio-Arc technology and our TrakHandle Sport cable handles. TuffStuff has created the most effective and bio-mechanically correct line of exercise machines that I have ever experienced and they are actually fun to use."
About Trak Fitness LLC
Trak Fitness LLC is revolutionizing the fitness industry with state-of-the-art, ergonomically correct equipment. Its patented TrakHandle Pro-X, TrakBar Pro-X and TrakHandle Sport lines of cable accessories are the only attachments available that allow multi-plane movements so that users can train more effectively and efficiently, while minimizing potential stress and injury to muscles, joints, and ligaments. Trak Fitness LLC designs all of its products to work in harmony with the natural movements of the human body in order to improve performance, safety and results.
About TFI
TUFFSTUFF FITNESS INTERNATIONAL, an American manufacturer headquartered in Chino,
CA, is an industry leader in the design, development and manufacture of premium grade strength
equipment. Whether supplying strength equipment to the world's finest Health Clubs, or producing the industry's most dependable home gyms, TFI consistently uses only the highest quality materials throughout their family of strength products. As a result, TFI has earned a reputation for building the most reliable strength equipment money can buy, which has rewarded them with a loyal following of fitness enthusiasts worldwide.