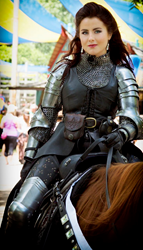 Los Angeles, CA (PRWEB) April 05, 2017
A mere ten minutes east of Pasadena lies a land seemingly thousands of miles away. It's a land of imagination and wonder - a recreation of a seaside town built hundreds of years ago, and teeming with remarkable sights, sounds, and savory delights. It's here where jousting knights, saucy wenches, regal ladies, and the court of a beautiful and gracious queen mix with today's hipsters, history buffs, fantasy lovers and families. The Original Renaissance Pleasure Faire – the world's oldest – presents its 55th anniversary season, beginning April 8th, and continuing each weekend through May 21st, at the Santa Fe Dam Recreation Area in Irwindale, CA.
Set in the royal shipyard city of Deptford during the reign of Elizabeth, fairgoers – many of whom dress in period costumes – are immersed in the music, language, merchant scene, and entertainment of the era. Thousands of performers roam the 23-acre lakeside shire, including Her Majesty, Queen Elizabeth herself, and Sir Francis Drake, as well as a bevy of knights, ladies, peasants, and more colorful characters that one could count! There are 16 stages of entertainment featuring more than 40 performance groups, such as magicians, dancers, jousters, witty comedians, musicians, storytellers, jugglers and improvisation troupes.
The variety of over 125 high caliber artisans in the village marketplace is sure to appeal to everyone. Nowhere else can you find the combinations of artists who will demonstrate their skill at blowing glass or forging iron, create a perfectly authentic article of renaissance clothing, or fashion a one of a kind piece out of exotic leathers.
The Renaissance Pleasure Faire is proud to present some of the finest festival food. Boasting local and internationally trained chefs, twenty-three food vendors offer an array of foods from fish and chips and sausages to salads and sorbets. Vegetarian and Vegan entrees and desserts are available. Our bawdy Pub Crawl is offered twice each day
Tickets for The Renaissance Pleasure Faire are $29.95 for adults and $15 for children aged 5-12. Children 4 and under are always free. Adult season passes are $150 and a child's season pass is $60. Tickets can be purchased at the box office, at participating Walgreens stores, or online at http://www.renfair.com. The seven-week Faire is open every Saturday and Sunday from 10 in the morn, 'til 7 eventide April 8 – May 21 at the Santa Fe Dam Recreation Area, 15501 Arrow Highway, Irwindale, CA. A Vehicle Entry fee of $10 is charged by Los Angeles County. For more information, visit http://www.renfair.com.