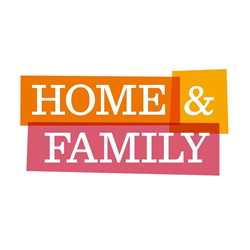 Universal City, California (PRWEB) April 10, 2017
Hallmark Channel's Emmy® nominated daytime talk show "Home & Family" is on the search to find "Home & Family's: Next Best Home Cook"! If you love to cook and have a great personality, than this is the contest for you. Not only can the applicant win $25,000, but he/she can also join Emmy® Winner Mark Steines and two-time Emmy® nominee Debbie Matenopoulos and become a part of "Home & Family's" recurring cast. All the applicant has to do is submit a video sixty seconds or fewer showcasing their culinary talents and prove why they should be crowned "Home & Family's" 2017 Best Home Cook.
To enter, send a video to HFhomecook(at)gmail(dot)com or go to "Home & Family's" Facebook page Facebook.com/homeandfamilyshow and click on the contest tab and upload your video. The winner will be announced in June 2017.
"Home & Family," currently in its fifth season, tapes at Universal Studios Hollywood, and is the only daytime lifestyle series on cable television with 52 consecutive weeks of new episodes. This season features even more fresh advice from experts at the top of their fields. "Family members" dishing tips and tricks that help viewers live their best lives include Hollywood beauty specialist Kym Douglas, TV personality Matt Iseman, men's fashion expert Lawrence Zarian, and fashionista Orly Shani to name a few. These captivating experts make "Home & Family" the "Ultimate How-To" show, and a series honored for its excellence with two Daytime Emmy® nominations.
"Home & Family" features not only the best in lifestyle advice, but also plays host to some of Hollywood's biggest stars and most exciting music acts. Recent guests that have visited include: Dolly Parton, Marisa Tomei, Queen Latifah, Guy Fieri, Kristin Davis, James Brolin, Wolfgang Puck, Regis Philbin, Betty White, Carol Burnett, Joe Montana, Susan Lucci, and Rocco DiSpirito.
Woody Fraser is the creator of "Home & Family." Marty Tenney and Tracy Verna-Soiseth are executive producers and Rob George is the director of "Home & Family" from Woody Fraser Enterprises. "Home & Family" airs new original episodes Monday through Friday (10a.m. ET/PT, 9C – 12p.m. ET/PT, 11C) on Hallmark Channel.
PRESS CONTACT:
Michael Goldman, 818.651.2106, Michael.homeandfamily(at)gmail(dot)com
Stephanie Beaird, 818.497.4504, Stephanie.homeandfamily(at)gmail(dot)com