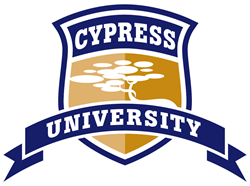 At Cypress, we have always aimed to be a source for helping businesses contain the rising costs of health benefits. Cypress University is one more way for us to do that.
Appleton, WI (PRWEB) April 13, 2017
Presenting Cypress University to its largest crowd to date, Cypress Benefit Administrators hosted more than 260 attendees at SLS Las Vegas this week while sharing the latest strategies for achieving cost savings and flexibility with health benefits.
The popular annual event filled all available seats less than 10 days after registration first opened. Cypress University kicked off its sixth year with a lively keynote presentation on the future of workplace wellness from award-winning speaker and author Andy Core. This session explored some universal considerations for employers in coordinating a wellness program and followed a high-energy format throughout as Core introduced the latest on program ROI, trends, research and case study examples.
"We knew Andy Core would be a fantastic addition to the Cypress University line-up, and the topic of workplace wellness proved to be very timely," said Tom Doney, president and CEO of Cypress. "He hooked the crowd with his dynamic speaking skills and provided some invaluable insight on where workplace wellness is headed."
Among the new topics covered at Cypress University this year were fiduciary responsibility with self-funded plans from Tim Callendar of The Phia Group and chronic care and medication management from Larkin O'Keefe of Tria Health. Bryan Russo of Zelis Healthcare also presented about out-of-network provider care options for plan members as they travel.
Other presentations in the two-day cost control conference covered a wide range of issues related to administering employee benefits:

Changing Care Management Models, Dr. Michael Burcham of Narus Health
Psychological Health in the Workplace, David Pawlowski of CuraLinc Healthcare
Captive Insurance in the Long-Term, Andrew Clayton of Pareto Captive Services
Innovations in Telemedicine, Scott Sanford of Healthiest You and Todd Heiserman of Teladoc
Provider Transparency, Thomas Grumley of Healthcare Bluebook
As part of the event, Doney shared about the evolution of Cypress, which included a look at how the third party administrator (TPA) has grown from serving as a benefits administrator to a true medical risk management company. He talked about the ways this expanded role is helping clients incorporate a wide range of cost control and quality benefit solutions in their self-funded plans, leading to better employee health and improved bottom lines.
Cypress University also featured a series of "Critical Update" sessions that re-visited key topics from last year. These follow-up sessions provided actual results showing how Cypress's programs are having a positive effect on clients across the nation in the form of cost savings and quality improvements.
The "Critical Update" sessions included:
ACA Reporting, Mark Combs of Sky Insurance Technologies
Medical Tourism, Shauna Thomas of Hostcare Resources
Cancer Care Management, John Van Dyke of Interlink
Chronic Kidney Disease, Shelley Grace of Renalogic
Value/Reference-Based Pricing, Ed Day of HST
"At Cypress, we have always aimed to be a source for helping businesses contain the rising costs of health benefits," said Doney. "Cypress University is one more way for us to do that."
About Cypress Benefit Administrators
A privately held company headquartered in Appleton, Wis., Cypress Benefit Administrators has been pioneering the way toward cost containment in self-funded health benefits since 2000. The third party administrator (TPA) is the country's first to bring claims administration, consumer driven health plans and proven cost control measures together into one package for companies ranging from 50 employees to thousands of employees. It serves employer-clients across the U.S. with additional locations in Portland, Ore., Omaha, Neb. and Denver, Col. For more information on Cypress and its customized employee benefits, visit http://www.cypressbenefit.com.