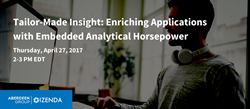 Embedded BI is fast becoming mission critical for today's leading software providers.
Atlanta, Ga. (PRWEB) April 10, 2017
Izenda and Aberdeen Group announced today that they will host an interactive webinar, "Tailor-Made Insight: Enriching Applications with Embedded Analytical Horsepower," on Thursday, April 27 from 2-3 p.m. (ET). Speakers will include Chuck Demaree, CTO of Access, and Michael Lock, vice president of Aberdeen Research and an acknowledged embedded business intelligence (BI) expert.
Software product teams need to create powerful business tools that end users find easy to use. Embedded BI is fast becoming mission critical for today's leading software providers. In fact, according to Aberdeen Group, embedded analytics leaders are three and half times more likely to see an increase in revenue greater than 20 percent.
Demaree and Lock will lead the webinar sharing their perspective on the value embedded BI brings to application developers and ultimately end users. They will review:

How user expectations for relevant analytical capabilities have changed
How companies leverage embedded BI to drive greater adoption and engagement
Key strategies for delivering tailor-made embedded BI
What results – from increased deal sizes to customer growth – embedded BI can deliver
Key considerations when evaluating embedded solutions
About lzenda
Izenda offers an embedded self-service business intelligence (BI) and analytics platform purpose built for software companies, solutions providers and their customers. Izenda integrates seamlessly in applications to deliver BI and analytics directly to the people who need it most – application end users who want to easily analyze, visualize, and share valuable data and insights in real time.
Based in Atlanta, Ga. and founded in 2007, Izenda is used by more than 10,000 organizations on a daily basis. https://www.Izenda.com.