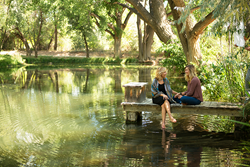 Many of our activities, like the Journey of the Medicine Wheel, are designed to promote self-discovery and connection, while expressive arts and puppy enrichment are meant to encourage fun and playful interaction.-Wendi Gelfound, Dir of Marketing
Santa Fe, New Mexico (PRWEB) April 06, 2017
Santa Fe's only destination spa, Sunrise Springs Spa Resort, announced today that it will offer a new "Mother Daughter Getaway" Package in honor of Mother's Day, which falls on Sunday, May 14, this year.
The tranquil, 70-acre oasis will offer a three-night package including a Sunrise Springs Women's Wellness Gift Basket of herbal eye pillows and lip balm made with ingredients from the resort's garden, plus Round Barn Apothecary skin care products and homemade Paraje Tea upon arrival. Mother-daughter pairs will also enjoy a private Medicine Wheel experience to discover more about each other. The package also includes:

Unlimited access to all daily activities including yoga, meditation, art and culinary experiences
$150 spa credit per person per visit, to be used toward any available service from the spa menu, including a private pool at the new Ojitos open air soaking experience
Choice of a spacious casita with local artisan touches, gas fireplace and private courtyard or a charming garden view room with private balcony
All farm-fresh gourmet meals (breakfast, lunch and dinner)
Starting at $1,638 for three nights for two people.
"This is a unique opportunity for mothers and daughters to spend quality time reconnecting and exploring new experiences together," said Wendi Gelfound, Director of Marketing at Sunrise Springs Spa Resort. "Many of our activities, for example the Journey of the Medicine Wheel, are designed to promote self-discovery and connection, while other classes in expressive arts, and puppy enrichment are meant to encourage fun and playful interaction. Additionally, these ladies can arrange time with our Medical Director, Dr. Sally Fisher, for personalized health consultations, or lead counselor Michael Schroeder if they are interested in gaining clarity and insight about their mother-daughter relationship," says Gelfound.
Sunrise Springs Spa Resort welcomes guests 18 years and older. Valid seven days a week. Subject to availability. Package includes arrival dinner, departure breakfast, and all meals in between. Complimentary Wi-Fi. No Resort Fees. Expires May 24, 2017. This offer can only be booked by phone. Call 877.977.8212.
For more information on Sunrise Springs Spa Resort, visit http://www.sunrisesprings.com.
###
About Sunrise Springs Spa Resort
The only destination spa in enchanting Santa Fe, N.M., Sunrise Springs Spa Resort is a tranquil natural springs sanctuary that has been a source of rejuvenation for centuries, weaving ancient wisdom and healing traditions with modern wellness. At the heart of the resort's 70 acres is a sacred Medicine Wheel surrounded by 20 spacious casitas and 32 garden view guest rooms; the new Ojitos, open-air soaking experience; an integrative spa; greenhouse; yoga, fitness and expressive arts studios; puppy studio and chicken coop; and a breakfast café and restaurant serving nourishing farm-fresh cuisine. A passionate team of credentialed wellness professionals and Thrive Guides empower guests to discover their unique path to creating harmony amongst the four aspects of wellbeing: mental, emotional, physical and spiritual. All-inclusive offerings range from the one-night Refresh + Recharge package to multi-day Girls' Getaways, Couples' R+R and Wellness Exploration experiences. Guests can also visit the nearby historic sister property, Ojo Caliente Mineral Springs Resort & Spa just north of Santa Fe.
242 Los Pinos Road, Santa Fe, NM 87507 | 505.780.8145 | sunrisesprings.com | @sunrisespringsnm