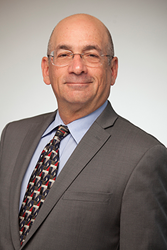 IRVINE, Calif. (PRWEB) April 10, 2017
Elie Gendloff, PhD, has joined Lewis Roca Rothgerber Christie LLP as Of Counsel in the firm's Intellectual Property practice group. He is a patent attorney whose practice focuses on life sciences.
Gendloff has extensive experience preparing and prosecuting patent applications in a variety of areas including biotechnology, clinical diagnostics, pharmaceuticals, biologics, molecular biology, medical devices, immunochemistry, stem cells, tissue engineering, immunology, virology, oncology, neuroscience, genetics, infectious disease, agricultural biotechnology, green technology and consumer goods. He also has substantial experience evaluating inventions for patentability.
His background also includes work as a research scientist with experience in biochemistry, genetics, and molecular biology of mycotoxin biosynthesis, regulation and degradation; molecular and quantitative genetic analysis; and immunochemical detection of haptens including monoclonal antibody technology.
Practicing out of the firm's Irvine and Los Angeles offices, he is licensed in California, New York, Missouri and Wisconsin. He is also registered with the U.S. Patent and Trademark Office.
Gendloff received a B.S. in Plant Science from the University of California, Davis, a M.S. and Ph.D., Plant Pathology from Michigan State University, and his J.D. from the University of Wisconsin-Madison.
About Lewis Roca Rothgerber Christie LLP
Lewis Roca Rothgerber Christie LLP is an Am Law 200 commercial law firm for handling complex matters in litigation, intellectual property, business transactions, gaming, government relations and other practice areas. Lewis Roca Rothgerber Christie offices are located in Albuquerque, Colorado Springs, Denver, Las Vegas, Los Angeles, Irvine, Phoenix, Reno, Silicon Valley and Tucson. For more information, visit lrrc.com.