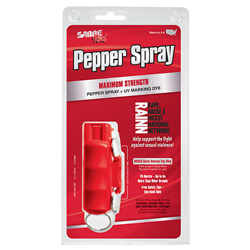 Chicago, IL (PRWEB) April 06, 2017
SABRE, the number one brand of pepper spray trusted by police and consumers worldwide, is proud to support Sexual Assault Awareness and Prevention Month (SAAM) this April by offering high quality protection items with a purpose.
Over the years, SABRE has joined hands with numerous charitable organizations to help raise money and awareness about sexual abuse and violence.
"According to RAINN [the Rape, Abuse & Incest National Network], every 98 seconds an American is sexually assaulted," said SABRE CEO David Nance. "We are working ceaselessly to lower these numbers with both our voice and our products."
Pepper spray is one of the easiest and most effective non-lethal defenses on the market. It's compact, affordable, capable of stopping multiple attackers of any size, and can be used with little to no training.
"Our maximum police-strength pepper sprays have been an industry leader for 40 years," said Nance. "Through our partnerships with RAINN and Kuros!, we are able to give men and women around the world the tools to thrive."
SABRE has launched a series of "Red" products in partnership with RAINN, the world's largest anti-sexual assault organization.
A percentage of the proceeds from both the RAINN Key Case Pepper Spray and Personal Alarm go directly to the charity to help give sexual assault survivors a chance to share their stories and the resources they've found helpful with others.
In an effort to reach out globally, SABRE has also partnered with Kuros!--a socially conscious company that is placing pepper spray in the hands of low-income women in developing nations.
For each blue Kuros! Spray that's purchased, Kuros! delivers one for free to at risk women, giving them a fighting chance against sexual assault. Over the last few years they have distributed pepper spray in the Philippines, El Salvador, India, and South Africa.
To learn more about their charitable endeavors or to partner with SABRE, visit http://www.sabrered.com.
About
SABRE, the no. 1 pepper spray trusted by police and consumers worldwide, is family owned and operated with four decades of experience and is the leading brand in personal safety. The company's law enforcement grade pepper sprays provide consumers with the same superior quality chosen exclusively by the New York Police Department, Los Angeles County Sheriff's Department and law enforcement agencies worldwide. SABRE has trained 3,500 officers around the globe on the use of force and how to use pepper spray. SABRE also has a line of consumer personal alarms and home security systems, and is dedicated to educating its customers. SABRE's Personal Safety Academy is available through certified instructors around the world to help teach personal safety skills to SABRE users. Learn more at http://www.SABREred.com, on Facebook at 'SABRE-Security Equipment Corporation', on Twitter @SABRERed or on Instagram @SABRESafety