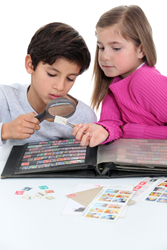 Stamp Collecting brings the world into your home.
Centre Hall, PA (PRWEB) April 07, 2017
Mark your calendar! The American Stamp Dealers Association, Inc. is hosting its annual National Spring Postage Stamp Show, April 13–15, 2017, in New York City. The show will be held at the New York Hilton Midtown, 1335 Avenue of the Americas, 6th Avenue and 53rd Street, New York, NY 10019. The doors open daily at 10 a.m. and there is no cost for admission. Thursday and Friday the show runs until 6 p.m.; Saturday until 5 p.m. There is something for everyone from the experienced collector to the non-collector — dealers, specialty collecting groups, and much more.
What To Do at the Show
Dealers will be buying and selling stamps and historic envelopes from across the nation and around the world — from vintage to modern, stamp collecting supplies, and more. Participating dealers: Colonial Stamp Company, Dutch Country Auctions, Excelsior Collection, Gary Posner Inc., Henry Gitner Philatelist, Inter-Governmental Philatelic Corporation, James Bardo, Larry Volovski, Long Island Philatelics, Mark Reasoner, Markest Stamp Company, Miller's Stamp Co., Mountainside Stamps and Coins, Nordica, Richard A. Champagne, Richard Friedberg Stamps, Stampman, Inc., Stanley M. Piller & Associates, Toga Associates, United Nations Postal Administration, Vidiforms Company, Vogt Stamps, Walter Kasell, Wayne Gehret. Collectors can purchase with confidence with ASDA Member Dealers. Visit the United Nations Postal Agency Booth to purchase their newest stamps and other issues.
Take Advantage of the Complimentary Appraisal Service — Bring in those stamps/collections that have been inherited or taking up space for years. This service will put a verbal value on your material and advise you on what to do with the collection. The appraisal service will be open for business from 10 a.m.–3 p.m. each day of the show. To participate in this service, check in at the ASDA Booth located at the show entrance.
Two societies will have a presence at the show -- the Ebony Society of Philatelic Events and Reflections, Inc. and the Philatelic Foundation.
Kids can get into collection. Enjoy the fun and challenge of stamp collecting. Each child, ages 6-10, who is accompanied by an adult, will receive a free copy of "My Stamp Album."
Be sure to visit the ASDA Table to purchase the show cachet and past show souvenirs.
Celebrate Spring and come to the Show — April 13–15 at the New York Hilton Midtown. Admission is free. Doors open daily at 10 a.m. Explore the wide, wonderful world of postage stamp collecting — a hobby for a life time!
Visit the ASDA online (http://www.americanstampdealer.com for all show information — schedule of events, dealers in attendance, and more.
The American Stamp Dealers Association, Inc., is a professional organization serving stamp collecting and its dealers since 1914.