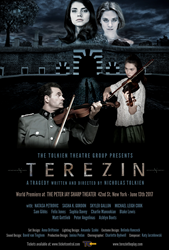 New York City, New York (PRWEB) April 11, 2017
Tolkien Theatre Company announces the off broadway world premiere of "Terezin"; a play about a Jewish violin prodigy's experiences during the Holocaust; directed by JRR Tolkien's Great-Grandson Nicholas Tolkien; at the Peter Jay Sharp Theatre on West 42nd Street in New York City running June 13 - July 2.
More info can be found on the play's website https://www.terezintheplay.com & tickets are on sale now for $38 through https://www.ticketcentral.com
"Terezin" is a tragic drama about two Jewish girls; Alexi - a brilliant violin player and her young friend Violet who are forced to act for their lives in a propaganda film in the Terezin concentration camp. Soon Violet disappears and Alexi is given a faustian bargain by the Nazi commandant; teach him to play the violin and he will reveal Violet's whereabouts. But how can she trust an evil man who orders the extermination of her own people?
"Terezin" is the debut play by JRR Tolkien's Great-Grandson Nicholas Tolkien. Tolkien has directed several feature films including Masquerade that premiered at the 2012 Santa Barbara International Film Festival and his collections of poetry have won multiple awards including the 2016 Morton Marcus Poetry Prize.
The play stars Natasha Petrovic as Alexi. Natasha is a Macedonian actress who has been described as "reminiscent of a young Ingrid Bergman" by Variety after winning the European Shooting Stars Award for ten most promising European actors working today along with actors Domhnall Gleeson & Alicia Vikander at the Berlin International Film Festival for her performance in "As If I am not there" where she played a Muslim schoolteacher struggling to survive her internment in a brutal concentration camp during the Bosnian war.
The other lead role of Violet is played by Sasha K. Gordon; a Ukrainian born actress who made her feature debut in the title role of David Bezmozgis's Natasha for which she garnered a Canadian Screen Awards nomination for Best Actress in a Leading Role.
Michael Leigh Cook plays the role of Commandant Karl Rahm. Michael served as an associate producer & starred in the award winning short film "If The Trees Could Talk", which has won 29 international awards and screened at the Festival De Cannes Short Film Corner. He also appeared as Otto Frank in the Shakespeare Theatre of New Jersey's recent production of "The Diary of Anne Frank" which received glowing reviews from publications such as the NY Times. Other cast members include Skyler Gallun, Felix Jones, Sam Gibbs and several other up and coming off broadway actors.
The play features music by award winning composer Katy Jarzebowski who has scored films that have screened at international film festivals including the Los Angeles & Tribeca Film Festivals and was chosen as a composer fellow for the Sundance Institute's Music and Sound Design Lab in 2014 was named one of ASCAP's 'Top Composers to Watch.' & sound design by award winning composer David Van Tieghem who has designed sound & music for several Pulitizer Prize winning shows including How I learned to Drive & Doubt as well Tony award winning Broadway's the Normal Heart.
"Terezin" runs June 13th through July 2nd with performances Tuesday through Saturday (7pm) and two performances on Sunday (2pm & 7pm). Tickets are on sale for $38 through https://www.ticketcentral.com - the play runs 139 minutes.
BACKGROUND - "Terezin" is adapted from diary entries written by Jewish inmates of Terezin including Gonda Redlich; Terezin is based on the Jewish eyewitness accounts of the red cross visit and subsequent Nazi propaganda film that was made in the camp and explores the tragedy of the Holocaust through the eyes of children. Writer/Director Nicholas Tolkien interviewed survivors in several countries, and spent years of research to tell an authentic story for a theatre audience. Soon, there won't be many survivors left, to share their experiences and Terezin aims to tell the story of the survivors and victims of the Holocaust and the dangers of propaganda as a weapon of genocide.
"Every single human voice is different and each has its own fingerprint; the reason I wrote this story is to give a voice to the millions of dead who were denied a chance to talk about their experiences during the Shoah, especially in Terezin - a place where the voice of an artist was their last hope of survival." — Nicholas Tolkien
Media inquiries:
Nicholas Tolkien Writer/director
santabarbarafilm(at)hotmail(dot)com (# 805-570-3120)
https://www.terezintheplay.com