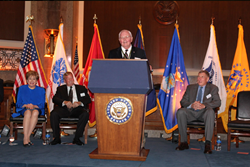 Alexandria, Va (PRWEB) April 05, 2017
The Military Officers Association of America (MOAA) recognized four supporters of the military community with the association's highest awards on Capitol Hill Tuesday evening. Retired Air Force Lt. Gen. Dana T. Atkins, president and CEO of MOAA, and retired Marine Gen. John J. "Jack" Sheehan, MOAA chairman of the board, presented the awards at a ceremony signaling the start of the association's annual "Storming the Hill" advocacy event.
Sen. Johnny Isakson (R-Ga.), chairman of the Senate Veterans Affairs Committee (SVAC), received the Colonel Arthur T. Marix Congressional Leadership Award for his consistently strong support of national defense and the uniformed services community.
Isakson has been a stalwart voice of veterans and uniformed members in Congress, demanding fair treatment and accountability from government agencies. A veteran himself, Isakson has been a member of the SVAC since he joined the Senate in 2005, and he played a crucial role in the massive VA reform bill, the Veterans Access, Choice, and Accountability Act of 2014. Additionally, he sponsored the 2016 Veterans First Act that contains a large variety of beneficial legislation for veterans including appeals reform, expanded caregiver programs, expanded survivor benefits, expanded Guard/Reserve G.I. Bill benefits, and veteran status for all Guard/Reserve retirees, among many other MOAA-supported initiatives
Retired Marine Col. Tom Bowman, staff director for the Senate Veterans Affairs Committee, accepted the award on behalf of Isakson due to the senator's inability to attend the ceremony.
The MOAA Distinguished Service Award was presented to both The Elizabeth Dole Foundation and Werner Enterprises Inc. for their consistently strong support of national defense and the uniformed services community.
Former Sen. Elizabeth Dole, founder and president of The Elizabeth Dole Foundation, accepted the award for the significant contributions the foundation has made to raising awareness and support for military caregivers by driving innovative research, championing policy, and leading collaborations that make a significant impact on their lives.
Dole thanked MOAA for its support of caregiving programs. "MOAA has been our partner and supporter since the very beginning," said Dole. "Most recently MOAA joined a partnership with USAA and PsychArmor Institute to launch a first-of-its-kind hotline to connect military caregivers directly with USAA financial advisors. … Thank you, MOAA, for making such a program possible," Dole said.
Werner Enterprises Inc., among the five largest trucking companies in the nation, received the award for its innovative veteran- and spouse-friendly hiring initiatives. The Omaha, Nebraska-based company joined the Military Spouse Employment Partnership in 2013. Currently serving Guard or reserve members, veterans, and spouses comprise 20 percent of its workforce.
Werner Enterprises' president and chief executive officer, Derek J. Leathers, accepted the award saying Werner was committed to supporting the troops. He proudly announced the company had, in fact, hired its 25,000th veteran since 2006 and 636th military spouse since 2013. Leathers said he "took great pride in knowing one in five driver associates are former military."
MOAA's Distinguished Service Award has been presented since 1997 to organizations or individuals not in Congress who have greatly aided people who served in the U.S. armed forces.
Jeanette James, professional staff member for the House Armed Services Committee (HASC), was recognized with the Colonel Paul W. Arcari Meritorious Service Award for her initiative and strong advocacy to sustain fair compensation and benefits for the uniformed services community. This is James' second time receiving the award.
In receiving the award, James commended the work of her colleagues and leadership on the HASC and the HASC Military Personnel Subcommittee. "We absolutely would not be able to do what we do. … They [HASC leadership] let us do what we need to do to support the men and women of the armed forces, the same people that MOAA and their coalition partners support every day."
The award, which honors congressional staff members who have made significant contributions to the uniformed services community, is named for Col. Paul A. Arcari, a retired Air Force officer who led MOAA's Government Relations Department from 1990 until 2001.
-End-
About MOAA:
Military Officers Association of America (MOAA) is the nation's largest officers association with more than 355,000 members from every branch of service, including active duty, retired, National Guard, Reserve, and former officers and their families and survivors. MOAA is a nonprofit and politically nonpartisan organization and an influential force in promoting a strong national defense. MOAA represents the interests of servicemembers and their families in every stage of their lives and careers, and for those who are not eligible to join MOAA, Voices for America's Troops is a nonprofit MOAA affiliate that supports a strong national defense. For more information, visit http://www.moaa.org or http://www.voicesfortroops.org.
Members of the news media who wish to be added to our media distribution list for MOAA news releases, please contact requestnews(at)moaa(dot)org. Visit MOAA's Multimedia & Press Room at http://www.moaa.org/media/default.htm.