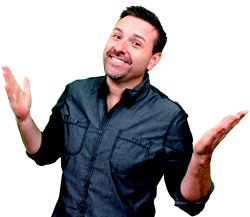 "I started [Pop Your Damn Culture!] to nail the challenges between white and brown…today it's more urgent and current than ever to let people know our similarities are many, and our differences diverse."
Phoenix, AZ (PRWEB) April 06, 2017
Before bilingual celebrity status was chic, it was already cemented in the mind of MARK "KID" CORONA (KidCorona.com) who, always wanting to be on the radio, landed his first radio show in Nogales, AZ in high school and joined a bilingual radio station in Tucson at the ripe age of eighteen. In spite of such achievements, it is unlikely the teen ever imagined interviewing a President of the United States so early in his burgeoning career.
Now a prosperous veteran of shows that have aired on diverse networks ranging from the WB to Univision, Corona is recognized amongst his colleagues for his unbridled enthusiasm, creative edge and unyielding wit. An April fool's on-air prank a decade back that brought national attention, an on-air impression of a renowned celebrity that duped listeners into belief, and a multitude of hilarious interviews with celebrities have all served to amp up Corona's ever growing presence, and bolster his image as a mirthful emcee with a Mexican American heritage that he doesn't shy away from.
And now Corona brings the uproariously edgy and insightful weekly podcast POP YOUR DAMN CULTURE! to a worldwide audience. POP YOUR DAMN CULTURE! covers topics ranging from the de-bunk-ation of old stereotypes to the differences between Corona's take on juicing in America (extracting vitamins from fruits) and Mexico (tequila and lime). The podcast includes clever quips, fun cultural distinctions and poignant conversations that help fill the divide between white and Mexican culture.
"I started this to nail the challenges between white and brown…today it's more urgent and current than ever to let people know our similarities are many, and our differences diverse," claims the innovative and thoughtful Corona. "I wanted to bust the door wide open…bridge the gap for important content I couldn't find on radio or even satellite."
A seasoned host of interviews, subjects have ranged from Bill Clinton and Beyonce to Pit Bull, Ice Cube, Latin pop sensation MANA to Enrique Iglesias, mostly through his work at the number 1 radio station in Hollywood, CA, Latino 96.3 FM. "Kid" Corona is also a veteran of Phoenix hip-hop radio and has launched successful R&B artists in the states.
As a light haired, hazel eyed father of one, Corona stems from Sonora, Mexico, and has always been mistaken as Caucasian. "I used to be called the whitest Mexican you will ever meet, but the truth is- I didn't speak English when I arrived here. And now, returning to my Spanish roots has become important- and hip in entertainment! Multi-cultural issues are now key and I wanted to unlock that door."
Starting summer 2017, the ten-minute POP YOUR DAMN CULTURE! podcast will be hosted by Mark Corona in both English and Spanish, and can be found on iTunes and at http://www.KIDCORONA.COM. Special guests can be expected in upcoming shows that will cover subjects ranging from interracial relationships to pop culture phenomenon.