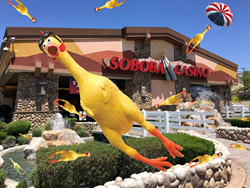 San Jacinto, CA (PRWEB) April 06, 2017
Silly as it may sound, Soboba Casino is very serious about breaking the Guinness World Record for the world's "Largest Rubber Chicken Toss" on April 29th.
The current world record is held by a group in Ontario Canada at 999 chickens tossed. But Soboba has hatched a plan to scramble the current record with an astounding 2,000 participants, and 2,000 rubber chickens to be tossed.
On the event day, participants will flock to the Soboba Event Arena, where organizers will be handing out the 2,000 rubber chickens in hopes of claiming the record. According to Guinness, to break the world record, at least 1,000 chickens must be tossed towards the target at the sound of a buzzer. However if any rubber chickens are not thrown at the sound of the buzzer, or there is any fowl play, those participants will be disqualified and their chicken will not be counted toward the world record total.
According to Scott Sirois, General Manager at Soboba Casino "We are excited to throw our hat in the ring for this very fun and silly event, and to be part of world record history!"
If the pure joy of throwing a rubber chicken in the air isn't enough, Soboba is egging on the competition by giving participants the chance to win a share of $200,000 in cash and prizes.
In conjunction with the world record attempt, guests can participate in "The Great $200,000 Chicken Toss" on Fridays, Saturdays, and Sundays in April. Guests will have the chance to win a share of over $200,000 in cash and prizes, and an entry into the World Record breaking event. Guests who earn 100 points between April 1st at 12:01 AM and April 28th at 8:59 PM will be entered into a drawing for their chance to play on the Chicken Toss Game Board and a shot at the grand prize, a Nissan 370 Z Coupe. Once 100 points have been earned, guests must swipe their Club Soboba Card at a promotional kiosk between 3 PM and 8:59 PM on promotional days to activate their entries. Anyone who is a Club Soboba member can participate. If you are not a Club Soboba member and wish to participate, signing up is free and easy.
Don't keep the family cooped up at home on April 29th, all ages are welcome to come down and watch the world record attempt take place.
Soboba Casino features approximately 2,000 of the newest, hottest slot machines, an expansive and modern non-smoking room, 20 classic gaming tables featuring all your favorite card games, an engaging tables experience with the advanced Baccarat gaming systems and a large outdoor event arena which easily accommodates over 10,000 people. Need to recharge & refresh? Visit the cozy Soboba Café and Coffee Kiicha, or experience AC's Lounge with full cocktail bar and three giant HD flat screens including the "Sobobatron", the Inland Empire's biggest HD video wall. Soboba Casino is proudly owned and operated by the Soboba Band of Luiseño Indians. Come join us for all the fun and then some! Soboba Casino. Where Everybody Goes to Play!
For more information visit: https://soboba.com/
Soboba Casino: 23333 Soboba Road, San Jacinto, CA 92583, (951) 665-1000