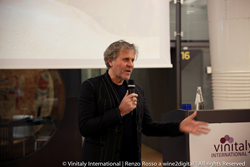 "We are learning from different sectors. Often Italian wine communication and promotion is based on what is inside the bottle, but having someone like Renzo Rosso inspires us and pushes us to think in a different way." Stevie Kim
(PRWEB) April 06, 2017
In the run up to the 51st edition of Vinitaly from the 9th to 12th of April, Vinitaly International has officially kicked off the show with a grand selection of wines for 5StarWines - the Book, tasted by 78 international judges. The guest of honor was fashion entrepreneur and wine producer Renzo Rosso, whose wines from his Diesel Farm featured in a friendly aperitivo at wine2digital in Verona.
On the 31st of March, at the end of the first day of the selection for 5StarWines - the Book which included also a focus on "natural" wine entitled Wine Without Walls, the judges had an opportunity to taste Rosso di Rosso and Bianco di Rosso from Diesel Farm, Renzo Rosso's winery. The jet setter Rosso, landed directly from Paris, expressed his passion and philosophy for his wines.
"The wines of Diesel Farm represent my strong bond with the land that I grew up on. I deeply respect the rural traditions and ancient craftsmanship of wine making that this country has, and I am always pushing my team to pursue a higher level each day and to find innovative ideas, both in my fashion brand and in my wine."
Rosso shared stories on how Diesel had been the game changer in fashion: from changing the discourse around women wearing jeans freely, to the way advertisement should be. He concluded by highlighting the importance of always having an eye for innovative projects.
On the occasion, Stevie Kim, Managing Director of Vinitaly International and event host commented, "We are learning from different sectors. Often Italian wine communication and promotion is based on what is inside the bottle, but having someone like Renzo Rosso inspires us and pushes us to think in a different way. I believe that both the international wine geeks and my staff coming from all parts of the world, have learned something from him today. For such a successful icon, I've never met such a down to earth and generous person, and we can all learn from his style of storytelling. After listening to him, we all know why he is so successful."
Renzo Rosso's Diesel Farm Wine tasting inaugurated with style a long series of Vinitaly events at wine2digital, starting with 5StarWines - the Book event, where judges evaluated wines from all over the world for three days. Robert Joseph, Panel Chairman of 5StarWines - the Book, defined wine2digital "An open space with a great atmosphere." Additionally, wine2digital is currently the educational venue for Vinitaly International Academy certification course from the 3rd to the 7th of April, hosting 60 candidates aiming to be certified as Italian Wine Ambassadors and Italian Wine Experts.
Located on the fair grounds of Veronafiere, Vinitaly International's new office and event space will be offering international and innovative wine events during Vinitaly. On Monday 10 April, wine2digital will host a breakfast networking session from 9:30AM with Vinitaly International Academy's educational partner, 1919, the giant of O2O liquor distributor in China. Welcoming Andrew Tan, the General Manager of 1919's purchasing subsidiary "Shanghai 1919 Global procurement CO., LTD", the special networking session will be an unique opportunity especially for Italian wineries, trade, and press. From 12:00, there will be a market seminar entitled "Hong Kong: A Wine Trading and Distribution Hub in Asia" by the Hong Kong Trade Development Council. Sophia Chong, Assistant Executive Director will convene the seminar, open again to all wineries, trade and press. In the afternoon from 5:00PM, Vinitaly International in co-operation with web agency KAIWA will present their new project, wine2digital School, an online school for wineries and personnel working in the wine industry to learn digital marketing skills and enhance companies' social presence online.
Vinitaly is the largest wine fair in the world that happens once a year. On the other hand, the permanent space wine2digital will hold innovative wine events with a digital twist throughout the year, with the intent of becoming the hub for all wine professionals and of bridging the gap between producers and consumers. Stevie Kim concludes, "What I love to do is to the mix the serious-ness and rigor behind wine tasting coupled with a moment of less formal, fun program so that we can truly appreciate the expression of dolce vita."
About:
Veronafiere is the leading organizer of trade shows in Italy including Vinitaly (http://www.vinitaly.com), the largest wine and spirits fair in the world. During its 50th edition Vinitaly counted more than 4,100 exhibitors on a 100,000+ square meter area and 130,000 visitors from 140 different countries. The next edition of the fair will take place on 9 - 12 April 2017. The premier event to Vinitaly, OperaWine (http://www.operawine.it) "Finest Italian Wines: 100 Great Producers," will unite international wine professionals on April 8th in the heart of Verona, offering them the unique opportunity to discover and taste the wines of the 100 Best Italian Producers, as selected by Wine Spectator. Since 1998 Vinitaly International travels to several countries such as Russia, China, USA and Hong Kong thanks to its strategic arm abroad, Vinitaly International. In February 2014 Vinitaly International launched an educational project, the Vinitaly International Academy (VIA) with the aim of divulging and broadcasting the excellence and diversity of Italian wine around the globe. VIA this year launched the second edition of its Certification Course and today counts 55 Italian Wine Ambassadors and 6 Italian Wine Experts.