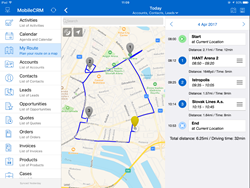 Boston, MA;New York, NY;Philadelphia, PA;San Diego, CA;San Francisco, CA (PRWEB) April 07, 2017
Resco, the provider of mobile solutions for Microsoft Dynamics CRM, Salesforce, and Oracle CX, has just introduced the Spring Release 2017 of its Resco Mobile CRM.
In total, more than 40 new features and improvements are included in the latest update. To highlight just a few, users can look forward to a re-designed and more intuitive route planning experience (and offline maps on iOS devices), built-in image editor, in-app chart configurator, and further enhanced security and customization capabilities.
The new additions that come with the Resco Mobile CRM Spring Release 2017 are available for free, to all existing Resco customers and partners.
What's new in the Spring Release of Resco Mobile CRM? Everything from: Platforms, Route Planning, Maps & Navigation, Charts, Documents, Mobile Reports & more.
To get a an idea, here's a short snippet, of what you can find. Read the full Spring Release 2017 Update.
Platforms
Offline maps (iOS) – system admins can define which maps will be stored in the local memory, so users can use the map view even without wi-fi or cellular connection to the Internet
Password manager support (iOS) – if users utilize a password manager, they can now use it to store their Resco Mobile CRM password and log in to the app.
Notification pop-up (Windows 10) – even when the app is minimized, important notifications from Resco Mobile CRM will appear at the lower left corner of the screen
Drag & drop files to emails and chat (Windows 10 & desktop) – enables users to select files and drag-and-drop them directly into e-mails and chat conversations in the app
Unique names for photos (Windows 10) – photos attached to the records now have unique names, containing the date and time
Smoother and faster in-app animations (Windows RT and Android)
Route planning, maps & navigation
Re-designed route planning – users can now plan their trips to their clients easier with the freshly re-designed route planner that's more intuitive and has a modernized user interface
About Resco Mobile CRM
Resco Mobile CRM is the all-in-one mobile solution that gives users around-the-clock access to CRM data wherever they are. It can be utilized with Microsoft Dynamics CRM, Oracle CX, Salesforce, or as part of Resco's standalone CRM solution — Resco Cloud. It offers reliable offline functionality, interactive maps, support of custom entities & many other capabilities that make it the product people love to use.
About Resco
Resco, founded in 1999, is one of the global leaders in developing cross-platform mobile software solutions. The team of Resco professionals utilizes its knowledge by designing products for corporate customers, developers, integrators, end users and today, Resco Mobile CRM is utilized by more than 1700 corporate customers around the world.
For more information please visit: http://www.resco.net