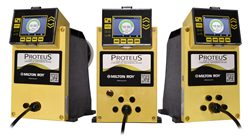 The new communications capabilities enhance feedback and control in a way that makes the PROTEUS pumps even smarter.
Ivyland, PA (PRWEB) April 10, 2017
Milton Roy, a leading manufacturer of controlled-volume metering pumps, and a brand of Accudyne Industries, today announced the third member of the PROTEUS™ line of Intelligent Metering Pumps, with the addition of the PROTEUS Communications Model.
PROTEUS metering pumps are mechanically actuated diaphragm pumps driven by advanced variable speed technology to address the specific requirements of chemical addition in water treatment. All three configurations of PROTEUS pumps - Manual, Enhanced, and Communications – also address the process control requirements of a wide range of applications including water and waste water treatment, agricultural, chemical, oil & gas; power generation, pulp & paper, and textile industries.
The new Communications Model expands the pump's intelligence with programmable inputs and outputs. The Communications Model adds support for Modbus RTU and Profibus (Process Field Bus) DP protocols to facilitate high speed, bi-directional communications. This allows plant operators to link devices from different vendors to a central SCADA (Supervisory Control and Data Acquisition) system for control, monitoring, and troubleshooting activities. It gives plant operators greater feedback and control for their chemical feed processes, and this two-way communication helps operators maximize plant performance while minimizing plant downtime.
"The PROTEUS metering pumps are among the most intelligent pumps in the industry, and the new communications capabilities enhance feedback and control in a way that makes the pumps even smarter," said Eric Pittman, Product Manager - Water and General Industry, Milton Roy . "By expanding the PROTEUS line, we're giving customers a wider range of choices to fit their specific needs."
PROTEUS pumps are ideally suited to handle low flows, with rates as low as .006 GPH (.023 L/H), up to 18 GPH (68 L/H), with turndown capabilities of 1,000:1, with +/- 1 percent steady state accuracy. Different liquid end materials, including: polypropylene, PVDF, and 316L stainless steel, are available to handle a wide range of chemicals, polymers, viscous fluids, and slurries without being affected by changes in discharge pressure.
Each member of the PROTEUS family features a backlit color display with convenient navigation in five languages: English, French, Spanish, Portuguese and Chinese. All PROTEUS pumps are backed by a global network of authorized industry experts, to support integrators and operators long after the initial installation.
For more information on the new PROTEUS Communications Model Pump, visit proteuspumps.com or Milton Roy at miltonroy.com to find a local authorized representative.
About Milton Roy:
Milton Roy is the world's leading manufacturer of controlled-volume metering pumps that set the industry standard for performance, accuracy and durability. For more than 80 years, Milton Roy has concentrated its scientific, engineering and production resources on the development and manufacture of equipment that accurately control fluids ranging from water to high viscosity polymers, corrosive or abrasive chemicals, toxic substances, and other difficult pumping elements. Milton Roy is a brand of Accudyne Industries, a leading global provider of precision-engineered, process-critical and technologically advanced flow control systems and industrial compressors. For more information, please visit http://www.miltonroy.com.
Contact:
Laurel Bloch
215-441-7802
laurel.bloch(at)miltonroy(dot)com