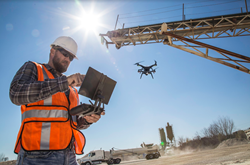 (PRWEB) April 08, 2017
Today, Advanced Solutions, Inc, an Autodesk Platinum Partner announces their partnership with 3DR, a leader in the commercial drone technology industry. 3DR is the developer of Site Scan, the drone data platform for construction; enabling consumers to inspect, survey, and scan worksites safely and efficiently to seamlessly deliver data for processing and analysis in the cloud.
Advanced Solutions Design Software has 30 years' experience in the AEC industry as an Autodesk Platinum Partner. Extensive knowledge and expertise put Advanced Solutions in the best position to collaborate with 3DR and offer Site Scan as a premier solution. This partnership affords clients the opportunity to accelerate their businesses and obtain real-time site information affordably and safely. This new offering will complement Advanced Solutions' current products and services with the latest innovation in reality capture. Advanced Solutions will leverage proven AEC industry experience to ensure customers receive high-quality training and consulting services to support Site Scan and streamlining of existing workflows.
"Reality capture is swiftly altering the way professionals in the building industry collect and utilize information from the field to assist in a more informed decision-making process," said Michael Golway, CEO of Advanced Solutions, Inc. "We are enthusiastic how this new partnership with 3DR will enable our customers in the AEC industry to accelerate and benefit from their adoption of reality capture technologies."
Intuitive experience for field professionals
The workflow is managed entirely from an iPad enabled with the simple, intuitive Site Scan Field app designed specifically for the business user. The process begins with Site Scan developing a flight plan for the survey, then the drone autonomously executes the flight and proceeds to capture imagery. Upon capture, Site Scan begins processing and importing data.
The survey captures images to create high-resolution georeferenced maps and digital elevation models, while Site Scan captures imagery to create 3D models. Once Site San captures the high-resolution images, these images are uploaded to the 3DR Cloud and finally to Autodesk ReCap. The resulting 2D orthographic view, 3D Mesh, and 3D Point Cloud are available for integration with many Autodesk technology solutions such as Autodesk Infraworks, Autodesk AutoCAD Civil 3D, Autodesk ReMake and more. Customers can calculate areas, volumes, and measure distances with Site Scan reality capture data for use in measuring stockpiles, gaining context for as-built conditions, as well as survey and mapping applications.
"Capturing site data today is costly, time-consuming, and often dangerous. Drones can easily go where it is inefficient or unsafe for field personnel, making it easier to measure our world accurately so we can better manage it," said Chris Anderson, CEO of 3DR. "We are delighted to partner with Autodesk Platinum Partner, Advanced Solutions Design Software, to deliver Site Scan, a complete solution drone data solution that saves time and money in construction."
About 3DR
3DR is North America's leader in commercial and consumer drone technologies. With a Series C round of V.C. funding led by Qualcomm and investment from Autodesk, 3DR is the first drone company to offer the complete aerial analytics platform for reality capture, Site Scan. For more information on 3DR, please visit the 3DR website.
About Advanced Solutions, Inc.
Advanced Solutions, Inc. and its subsidiaries operate as a diversified technology company providing integrated software solutions and services, enabling businesses to achieve more effective products, processes, technologies, and ideas. Founded in 1987, Advanced Solutions celebrates 30 years serving clients in the architecture, engineering, construction, manufacturing, material handling, retail, and biomedical industries throughout North America. As a premier Autodesk Platinum Partner, Advanced Solutions Design Software holds seven Autodesk Platinum awards, is on of the top 3 partners in the United States, and one of the top 10 Autodesk partners globally.
Advanced Solutions continues to build a family of technology companies and brands with a passion for innovating. For more information contact us.
Autodesk, the Autodesk logo, Autodesk ReCap, Autodesk AutoCAD Civil 3D, Autodesk Infraworks, and Autodesk ReMake are registered trademarks or trademarks of Autodesk, Inc., and/or its subsidiaries and/or affiliates in the USA and/or other countries. All other brand names, product names or trademarks belong to their respective holders. Autodesk reserves the right to alter product and services offerings, and specifications and pricing at any time without notice, and is not responsible for typographical or graphical errors that may appear in this document.
© 2017 Autodesk, Inc. All rights reserved.