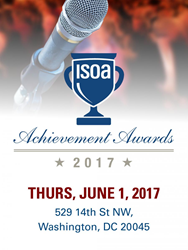 "The ISOA Awards Program will salute businesses who have gone above and beyond the call of duty. These Awards will honor government contracting leaders in the ISOA ideals of accountability, transparency, and ethics." - Howie Lind, the President of ISOA
(PRWEB) April 06, 2017
The International Stability Operations Association (ISOA) is calling for nominations for the 2017 ISOA Achievement Awards ceremony and celebration recognizing companies for their outstanding work in the stability operations field.
Eligible nominees include corporate members of the ISOA who are in good standing with the industry. Companies may apply who are not members of ISOA, but to be selected as a finalist, your company must have joined the association. The ISOA Stability Operations Awards will be awarded to companies who consistently demonstrate commitment to accountability, transparency, and ethics in the stability operations arena based on the size of your company – small, medium, large.
The top award, based on company size, will be presented as a "Vanguard" Award. Individual Awards recognizing sustaining support of ISOA and an ongoing commitment to the stability operations field will also be presented, for which nominations are not required.
Nominations are accepted via a downloadable Award Nomination Form. All nominations must be received via email to howielind(at)stability-operations(dot)org by Friday, April 7, 2017.
Winners will be selected by our three independent judges and will be announced in April 2017. The honorees will be recognized at the 2017 ISOA Awards Dinner on Thursday, June 1, 2017 at the National Press Club, Washington, D.C.
For specific questions about the nomination process, please contact our awards committee members, Michelle at 202‑344‑9030, or Kelley at 202-680-9888.
Submit your Award Nomination - due by April 7: http://stability-operations.org/events/2017/2017-isoa-achievement-awards
Attend the Awards Dinner - June 1: http://stability-operations.org/isoa-achievement-award-nomination-form