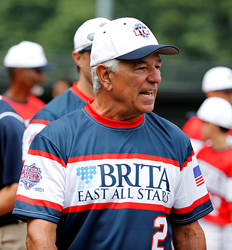 The mission of Steel Sports is to reach out to as many people in our country and young players with the right idea of giving their best, to understand you're never going to be a perfect player, and you're never going to win every game.
Hermosa Beach, Calif. (PRWEB) April 07, 2017
Always wanting to give back to today's youth and to the game in which he's spent a lifetime, former Major League Baseball player and manager Bobby Valentine joined the Steel Sports Advisory Board along with other prominent figures in the sports world.
These former athletes and coaches act as Steel Sports ambassadors, promoting the company's mission of transforming the existing youth sports culture to help create an environment where athletes compete at a high level while learning life lessons.
Steel Sports CEO David Shapiro recently sat down with Valentine for an exclusive interview about life as a young multi-sport star, his work with youth and collegiate athletes, a Hall of Fame mentor and his excitement about working with Steel Sports to revolutionize the youth sports experience.
-----
Spending two months on the road last summer with his 16-under baseball team, Bobby Valentine got a glimpse of how youth sports has changed since he was a multi-sport star growing up in Stamford, Connecticut.
Teams are traveling more, playing more games, practicing less, and the idea of year-round sports and specialization continues to spread.
Valentine was recruited out of high school to play football and baseball. The traditional football powerhouse University of Southern California even offered him a full ride, but he opted to sign a professional contract with the Los Angeles Dodgers. Even though he ultimately decided on a career in baseball, playing football through high school taught Valentine the importance of focusing on one game at a time.
"That's the mentality I think you need to have, regardless of the game you're playing," Valentine said. "This is the most important game, and you practice, whether it's practicing for a week or practice for five minutes before the game in the batting cage or take a few set shots before the basketball game, that the game you're playing is the most important game you'll ever play, and play it like it's your last game."
Valentine played multiple sports throughout his childhood and high school. Besides baseball and football, he also excelled at track, and he remains the only player in Connecticut history to be selected All-State in football three times.
Even if it's not as organized as someone's chosen sport, Valentine encourages today's youth to find a way to play other sports.
"Multi-sport athletes are harder and harder to come by, not because of the athlete but because of the system," Valentine said. "I think multiple sports will teach you more about teamwork and also put you in a situation where you might not be the star in every sport and help you understand what it's like to be a team player rather than just the star player."
When the Los Angeles Dodgers drafted Valentine No. 5 overall in the 1968 Major League Baseball draft he had a difficult decision to make: head to the University of Southern California to play football or pursue a professional baseball career. A visit with Al Campanis, the Dodgers general manager at the time, helped clear the picture for a young Valentine.
Campanis asked, "What would you rather do, play against the best football players in the Pac-10 or against the best baseball players in the world?"
Upon choosing a career in baseball and still a kid in many ways, an 18-year-old Valentine headed to Utah to play for the Ogden Dodgers. There he would meet a man beginning his path to a Hall of Fame managerial career and someone who would shape the young Valentine's life beyond the baseball field, Tommy Lasorda.
"Tommy Lasorda was the man who really made a difference in my life on and off the field," Valentine said. "I went to him in Ogden, Utah, and he taught me how to wear my pants, how to throw to the relay man, how to hit the cutoff man, how to hit, and taught me how to respect everyone around me."
Following a 10-year MLB career with five different teams, Valentine got into coaching and earned his first managerial job with the Texas Rangers in 1985. At the time, he was the youngest manager in baseball at just 35 years old.
Valentine managed for 16 seasons with the Rangers, New York Mets and Boston Red Sox, and he also spent time managing in Japan's Nippon Professional Baseball for the Chiba Lotte Marines. His first stint was in 1995, and he then returned in 2004 to manage the club for six seasons.
In 2005, he led the Marines to their first Pacific League pennant and Japan Series title in 31 years. During his time in Japan, Valentine was captivated with the true respect and appreciation the fans and the players have for one another.
"After every game we were outside of our dugout tipping our hats and waving to our fans whether we won or we lost, and they would stay until the last out of every game," Valentine said. "The fans appreciate the players, and the players appreciated the fans."
After retiring from managing, Valentine found another opportunity to make an impact in the sports world by returning home to Connecticut in 2013 as Sacred Heart University's Executive Director of Athletics. Since taking over that role, he has helped raise the school's visibility, and the Pioneers have won 18 conference championships.
On top of his duties at Sacred Heart University, spending time with his youth teams and players as owner of the Bobby Valentine Sports Academy, and countless other business and philanthropic projects, Valentine saw the importance of taking on another role as a member of the Steel Sports Advisory Board. Youth sports is very close to Valentine's heart, and he wants to be a part of Steel Sports' efforts to provide the millions of young athletes around the country with proper instruction, facilities and the opportunity to play.
"Steel Sports understands that the pyramid is very wide at the bottom and that there are still millions of players who, at a young age, want to participate in youth sports," Valentine said. "The mission of Steel Sports is to reach out to as many people in our country and young players with the right idea of giving their best, to understand you're never going to be a perfect player, and you're never going to win every game."
As an 18-year-old kid from Connecticut traveling 2,200 miles across country to begin his career in Ogden, Utah, Valentine learned many life lessons from Tommy Lasorda, and he wants to continue sharing that wisdom with a new generation.
"You can win by doing the right things, and you can be successful without the scoreboard showing everyone that you won," Valentine emphasizes. "You can be a winner by being great."
###
About Steel Sports:
Founded in 2011, Steel Sports Inc. is committed to improving the youth sports experience and enriching children's lives. Our organization recognizes the value that sports and fitness have in providing meaningful and life-changing experiences for our nation's youth. We operate and manage participatory and experience-based businesses in the youth sports and exercise marketplace, emphasizing a positive and fun environment while instilling our values of discipline, teamwork, safety, respect and integrity. The Steel Sports Coaching System is implemented with each portfolio company to ensure our coaches are educated and prepared to have a positive impact on our athletes. Our core businesses include: the National Youth Baseball Championships, the country's premier travel ball championship for ages 9U-14U; Baseball Heaven, a 30-acre baseball complex in Long Island; and UK Elite, one of the largest soccer programs in the country offering programs such as summer camps, coaching services, teams and tournaments. 
Website: http://www.steel-sports.com