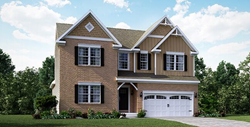 Columbus, Ohio (PRWEB) April 07, 2017
The greater Columbus region continues to be one of the hottest real estate markets in the county. Low levels of available resells, limited builder inventory, and rising mortgage rates have left home buyers searching high and low for new homes. Expansion of surrounding communities has flourished in the recent years and 2017 is on pace to be one of the busiest building years on record for the home industry.
With available homes on the market not fitting the lifestyle or needs of millennial buyers Builders are being forced to reevaluate home designs and building practices in efforts to modernize for today's home buyers. Open concepts, smart home technologies and spacious living are driving the current must haves for home buyers and bedroom communities all around the region are developing.
Maronda Homes, a Pittsburgh based builder, leads the expansion of these home trends around the greater tri-county area. The family owned building company has expanded in Ashville, Grove City, Canal Winchester, and Johnstown, with new phases in the works in Delaware and Marysville.
The Knoxville, a new home design for 2017 built in Ashton Crossing, offers some of the biggest features that today's homebuyers have been clamoring for. Open concepts, first floor master bedrooms, modern bathrooms and state of the art kitchens.
The Ashton Crossing community, located just 26 miles south of downtown Columbus, is a microcosm of what todays buyers are drawn towards. Small town atmosphere, local shopping, easy access to a major metro area and ample outdoor recreational options nearby.
Located near major interstates I-270 and US 23, Ashton Crossing is served by the highly rated and growing Teays Valley School System. The Knoxville model will be open all weekend for tours, Saturday and Sunday from 12- 6 pm 3 Hemingway Ave. Ashville OH 43103