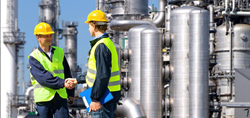 Basic Orientation Plus® prepares the student to perform various duties in the safest possible manner.
Swedesboro, NJ (PRWEB) April 10, 2017
The Delaware Valley Safety Council seeks to provide world-class safety training to contractors and employees working in industrial facilities in Delaware, New Jersey and Pennsylvania. DVSC continually adds best-in-class training programs to meet the safety-training needs of diverse industrial environments. DVSC's ultimate goal is to have every worker return home safely from work every day.
Basic Orientation Plus® is a reciprocal contractor safety awareness training program that was designed to meet the classroom training requirements of the standards listed in the Code of Federal Regulations as enforced by the U.S. Department of Labor, Occupational Safety & Health Administration (OSHA) in the components it covers. The BOP course is a 4.5 Hour program; designed to help build a solid foundation in safety by addressing general safety needs for the contractor workforce in petrochemical and other industry plant/facility environments. Some course awareness topics included in BOP are General Safety, Labels & Warning Signs, Personal Protective Equipment (PPE), Electrical Safety, Emergency Action Plans (EAP) and Fire Protection. The ultimate goal of BOP is to prepare the student to perform various duties in the safest possible manner.
Basic Orientation Plus® and Basic Orientation Plus® Refresher orientations do NOT replace contractors' and owners' specific training programs and do not authorize employees to do work. The employer must provide the employee with proper training for the specific job.
To register for the "Basic Orientation Plus" course or to learn more information, please visit http://dvsconline.org/public/course-descriptions/bop-orientation/ and always remember to think and stay safe!
The Delaware Valley Safety Council
510 Heron Drive, Suite 210
Swedesboro, NJ 08085