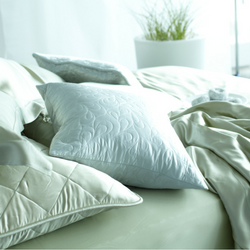 "When I received my Manito pillowcases I was so elated to try them out as they are super, silky soft and delicate. I just knew they would send me into a peaceful slumber….they did not disappoint, they are simply enchanting – I adore them." - Missy
Ferndale, WA (PRWEB) April 10, 2017
Starting April 10, 2017, Manito Luxury Silk Bedding and Silk Sleepwear begins its Colors of Spring Sale, offering 25% off select silk bedding in spring colors of sage green, silver blue and chocolate. All of Manito's Luxury Silk Bedding is made with unparalleled quality of material and craftsmanship, consisting of 22 Momme long-strand Mulberry Silk with the finest Charmeuse weave.
Manito's contemporary Silk Duvet Covers are beautifully stitched with an elegant design and a discreet zipper for easy everyday use and care. Manito's Silk Duvet Covers promote a comfortable and healthy sleep environment. Silk is an all-natural, breathable fabric with unique moisture wicking properties. Surround yourself in the silk that Good Housekeeping voted North America's most luxurious, and consumer favorite for smoothness and comfort.
Manito's Silk Pillowcases and Silk Pillow Shams are also a secret beauty weapon. Hypoallergenic and gentle on the face, some dermatologists argue that Silk Pillowcases minimize wrinkles. Silk Pillowcases also promote healthy hair by minimizing tangles and breakage.
Square or lumbar Silk Accent Pillows come complete with feather-filled inserts and feature stunning, meticulously stitched leaf patters. Silk Euro Shams are covers only, with a large diamond pattern. All three items feature artfully hidden zippers.
According to John Kenmuir, president of Manito Luxury Silk Bedding and Sleepwear, "We don't often put these particular items on sale so this is a great opportunity to take advantage of special pricing on our luxurious silk in four sumptuous colors. Sleep well, sleep silky and shop smooth this Spring."
One customer, Missy from Fort Lauderdale, FL states "When I received my Manito pillowcases I was so elated to try them out as they are super, silky soft and delicate. I just knew they would send me into a peaceful slumber….they did not disappoint, they are simply enchanting – I adore them."
Manito Luxury Silk offers free and fast delivery for all orders over $50, premium quality silk products at competitive prices and a 100% satisfaction guarantee for customers worldwide just a few of many reasons customers who appreciate the highest level of quality choose Manito Luxury Silk Bedding and Silk Sleepwear. More information regarding Manito Luxury Silk can be found on their website, by emailing info(at)manitosilk(dot)com or by calling toll free (877) 540-7455.
About Manito Luxury Silk Bedding and Silk Sleepwear
Not all silk vendors are created equal. Manito Luxury Silk Bedding and Silk Sleepwear is headquartered and maintains inventory in North America. Manito designs its products in North America, for western colors, tastes and style. Its parent company manufacturers everything Manito Luxury Silk Bedding and Silk Sleepwear sells. Manito Luxury Silk provides the finest silk bedding and sleepwear products available in North America, with unparalleled quality of material and craftsmanship.