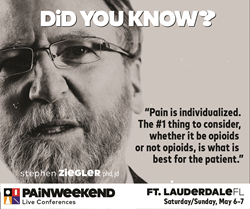 Florida, like all states throughout the United States, has struggled with managing two competing crises: prescription drug abuse and undertreated pain.
Montclair, NJ (PRWEB) April 11, 2017
PAINWeekEnd (PWE) Fort Lauderdale—May 6 and 7 at the Fort Lauderdale Marriott North at 6650 North Andrews Avenue—will be an educational and exciting 2-day program providing busy clinicians and allied healthcare practitioners with 12.0 hours of relevant, practical instruction in the management of chronic pain.
"Florida, like all states throughout the United States, has struggled with managing two competing crises: prescription drug abuse and undertreated pain," comments Stephen J. Ziegler, PhD, JD. "These crises are not zero sum games and will require ongoing efforts to educate policymakers, practitioners, and the public about the problems and their solutions." Dr. Ziegler, Associate Professor of Public Policy at Indiana University--Purdue University in Fort Wayne, Indiana, will moderate and present at PWE Fort Lauderdale.
Course titles (subject to change) include Pain Pathophysiology Unraveled; A Caress or a Slap? Understanding Sensory Amplification Systems in Chronic Pain; Nonopioid Analgesics: Antidepressants, Adjuvant Therapies, and Muscle Relaxants; Pain Diagnostics: Clinical Pearls to Improve Common Tests for Pain; Can Opioids be Rationally Prescribed for Chronic Pain?; Not for Human Consumption: New Drugs of Abuse and Their Detection; If 6 Were 9: The CDC's Prescribing Guidelines and the Veil of Secrecy; Trainwreck: Addressing Complex Pharmacotherapy With the Inherited Pain Patient; Embrace 2017 Practice Changes and Patient Education: Overview of Critical Pain Management Practice Issues; The Medical Stasi: Is Risk Management for Controlled Substances Destroying the Provider-Patient Relationship?; Cannabis vs Cannabinoids: The Politics of Medical Marijuana; and Get Your Specimens in Order: How to Avoid Bad Company and Tame the Paper Beast Associated With Testing Drugs of Abuse. In addition, there will be commercially supported activities addressing a range of product, disease state, and medical information topics.
Register for PAINWeekEnd at painweekend.org
To see the complete agenda and more information about this or any other PAINWeekEnd Regional Conference, go to painweekend.org. The online registration fee for this PAINWeekEnd Conference is $199. PAINWeekEnd registrants are further offered the opportunity to register for the 2017 PAINWeek National Conference, September 5-9, in Las Vegas, for $200 off the current online published price.
PAINWeek is provided by Global Education Group.
About Global Education Group:
Global Education Group focuses on producing partnership-based CME for healthcare practitioners. The Global team works with a select group of medical education companies, associations, academic institutions and healthcare facilities to develop and accredit live healthcare conferences and workshops as well as online activities. With each partnership or joint providership, Global brings accreditation expertise, project management excellence and grant funding intelligence. Based in Littleton, Colo., Global has accreditation with commendation from the ACCME. Global also holds accreditations to offer continuing education for nurses, nurse practitioners, pharmacists, dietitians, dentists and psychologists. Global is a division of Ultimate Medical Academy.