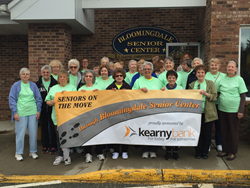 Bloomingdale, NJ (PRWEB) April 07, 2017
Last year approximately 40 local seniors participated in the annual Seniors on the Move program held at the Bloomingdale Senior Center. Local seniors are encouraged to participate in this seven month long program, where seniors will meet each week for a one mile walk, followed by a breakfast, a blood pressure reading and a talk from a health professional. Last year program participants walked a total of 43,145,140 steps.
Kearny Bank provides continuing support of the "Seniors on the Move" and its participants for many years. The Bank's monetary donation is used for weekly breakfasts, T-shirts, pedometers and the award luncheon.
For more information on programs offered at the Bloomingdale Senior Center at 103 Hamburg Turnpike in Bloomingdale, call 973-838-9259.
Kearny Bank, a federally-chartered stock savings bank, has supported the communities it serves since 1884. The Bank has assets of $ 4.5 billion and operates 42 full-service banking offices in Northern and Central New Jersey and Brooklyn and Staten Island, New York.