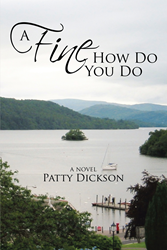 HILTON HEAD, S.C (PRWEB) April 10, 2017
As an homage to her infatuation with British high society, author Patty Dickson has published her new novel, "A Fine How Do You Do." The novel centers on its lighthearted tone, along with its wide and eccentric range of characters.
Eric, a weatherman, leaves his wife and his life behind in Altoona. He sets off for England, where he meets socialite Alma Boeld. The two quickly bond, and Alma's unpredictable brother, her sensitive chauffeur, her two loyal maids, a deftly conniving acquaintance, and a mother with her precocious twelve-year-old daughter fill an eye-opening summer.
Kirkus Reviews has described the book as "a charming and compelling tale about an American traveler trying to navigate British high society."
One of Dickson's goals for "A Fine How Do You Do" is that people identify with and relate to its characters. "People often ask me how I managed to write this book," said Dickson. "But I don't feel that I wrote it! I let the characters write the book themselves. Their stories just came to me."
Dickson's novel also teaches the life lesson that family is not always defined by blood. "The characters are all feeling a little lonely at the beginning of the summer. By the end, you see them learn to lean on one another. They've become a family."
"A Fine How Do You Do" will prove a charming, feel-good summer read. As the characters discover themselves, their lives will find their way into readers' hearts and linger.
"A Fine How Do You Do"
By Patty Dickson
ISBN: 978-1491798225 (paperback); 978-198218 (e-book)
Available at Dickson's website, iUniverse and Amazon
About the author
Patty Dickson is an avid traveler who continues to explore the world. She has lived in Europe as well as the United States. She is an avid writer, and is very active in her community. Her pastimes include sports, theater, dancing, and spending time with her friends. She lives in Hilton Head Island, S.C., and has one son.
To learn more about the author, please visit her website.
###
Review Copies & Interview Requests:
LAVIDGE – Phoenix
Kalin Batts
480-998-2600 x 524
kbatts(at)lavidge.com
General Inquiries:
LAVIDGE – Phoenix
Amanda Eisen
480-998-2600 x 540
aeisen(at)lavidge.com