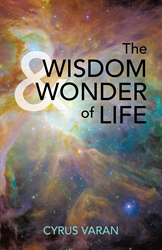 (PRWEB) April 10, 2017
A New Zealand-based author with expertise in physical sciences and mathematics has released a book that explores the beauty of the visible world and also pursues the catalyst behind evolution. In "The Wisdom and Wonder of Life," professor Cyrus Varan delves into the biological discoveries of the 20th century, DNA and the world within cells to demonstrate the non-coincidental nature of evolution.
With emphasis on scientific discoveries relating to DNA, Varan offers an inspiring exploration, from the viewpoint of a scientist, of the mysteries of the biological world. In this, Varan highlights the notion that evolution is the process of creation rather than the causation.
"'The Wisdom and Wonder of Life' explores the writings of the greatest minds of our time, including Albert Einstein, who believed 'the universe is governed by an external causation,'" Varan said. "It is my belief that science is not atheistic and that there is natural harmony between science and spiritual ideology."
Written in simple language, the book also explores in-depth the limitation of chance events and their inability to cause masses of matter to experience self-consciousness and love. "The Wisdom and Wonder of Life" emphasizes the significance of life's non-random nature as well as the gift of experiencing human life.
"The Wisdom and Wonder of Life"
By Cyrus Varan
ISBN: 978-1-480-83291-6 (hardback); 978-1-480-83290-9 (paperback); 978-1-480-83292-3 (electronic)
Available at the Archway Publishing Online Bookstore, Barnes & Noble and Amazon
About the author
Professor Cyrus Varan holds a Ph.D. in applied sciences with minors in mathematics and physics. He has authored several articles for scientific journals. A recognized inventor, Varan is credited with patents in both the U.S. and U.K. Now 82 years old, Varan resides in Red Beach, New Zealand.
###
Review Copies & Interview Requests:
LAVIDGE – Phoenix
Danielle Grobmeier
480-998-2600 x 614
dgrobmeier(at)lavidge(dot)com
General Inquiries:
LAVIDGE – Phoenix
Maggie Driver
480-998-2600 x 584
mdriver(at)lavidge(dot)com