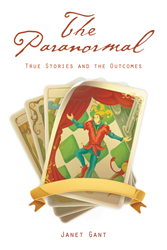 AUCKLAND, New Zealand (PRWEB) April 17, 2017
Author Janet Gant has released her new book, "The Paranormal," which contains in-depth insight on the art of divination and over 40 true stories based on her own sessions along with other clairvoyants and mediums contributing additional stories as well.
Gant discovered divination when she reached a dark point in her life and wanted to know when her circumstances would improve. Her friend suggested a Tarot card reader, who was able to identify and predict her problem without previously knowing anything about her.
"I couldn't believe it," Gant said. "The tarot reader was on the money and so was the outcome of her prediction."
One element of "The Paranormal" that Gant believes separates her book from others is the fact that she includes the results of hers and others' predictions, sessions and readings.
"It was important for me to convey to readers that divination is real and not a figment of the imagination," she said. "That's why I included the outcomes section after every story: to prove that these phenomena happened the way the clairvoyants said they would."
"The Paranormal"
By Janet Gant
ISBN: 978-1-51444-435-1
Available at the Xlibris website and Amazon
About the author
In 1987, when Janet Gant was at a crossroads in her life, a friend suggested she visit a Tarot card reader. When she was able to diagnose Janet's problem without any assistance from her, she realized that divination was a true occurrence. She has had a variety of readings, which have been accurate and helpful to her. After writing two books, Gant decided to share her experiences in "The Paranormal," and has found forty volunteers to share their experiences.
###
Review Copies & Interview Requests:
LAVIDGE – Phoenix
Kalin Batts
480-998-2600 x 524
kbatts(at)lavidge(dot)com
General Inquiries
LAVIDGE – Phoenix
Bryan Beach
480-998-2600 x 510
bbeach(at)lavidge(dot)com