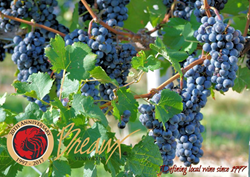 We are thrilled to be celebrating twenty years of business with our friends and family at Breaux Vineyards.
Purcellville, VA (PRWEB) April 10, 2017
Breaux Vineyards' 20th Anniversary Celebration event will take place on Saturday, April 22nd, 2017 at Breaux Vineyards in Purcellville, VA.
Breaux Vineyards is celebrating twenty years as a premier winery in Loudoun County. The vineyard, which began as a hobby in 1994, has become one of the largest wineries in all of Virginia. Breaux Vineyards produces 14,000 cases of premium wine every year, made from grapes grown on the property.
In 1995 Owner, President, and Founder of Breaux Vineyards, Paul Breaux, registered Breaux Vineyards as the 50th winery in the state of Virginia. Two years later in 1997, Breaux produced their first vintage of wine. Today, his daughter and grandsons are proudly continuing his legacy.
Music at the celebration will be provided by the Voodoo Blues Band. The Voodoo Blues Band uses Boogie Woogie piano, Cajun blues, rhythmic funk and Creole spirit to spice up every tune the band plays, from NOLA classics to modern rock. The band is comprised of three members, all of whom are experienced musicians. The Voodoo Blues Band will be playing at Breaux Vineyards from 1:00 pm to 5:00 pm on the day of the event.
This event is totally free to the public and will occur rain or shine. Fees apply for wine tasting and other activities.
"We are thrilled to be celebrating twenty years of business with our friends and family at Breaux Vineyards." said Paul Breaux, President and CEO of Breaux Vineyards. "We are proud to serve a variety of award winning wines and look forward to our future as one of Virginia's most popular wineries."
Library wine will be available at the event. There will also be a ribbon ceremony, cake cutting, live music, food offerings, raffle prizes, kid's activities, craft vendors and chef demonstrations. Wine specials will be offered during the event.
During the celebration, Breaux Vineyards will be doing a presentation on their upcoming wine cruise. The cruise, which takes place in May, includes an exclusive private three-night package in Barcelona and a seven-night cruise on the Rhone River is Southern France.
Breaux Vineyards is a family owned and operated winery located in Loudoun County, VA. The 404 acre estate is home to more than 104 acres planted with eighteen different grape varieties. The winery is conveniently located just one hour from metropolitan DC, Dulles and BWI airports.
About Breaux Vineyards
Breaux Vineyards produces award winning wines at their property in Purcellville, Virginia. Breaux's wines have won numerous national and international awards including "Best of Class" at the LA County Fair wine competition. Since opening in 1997, Breaux Vineyards has become one of the fastest growing wineries in Virginia.
For more information about Breaux Vineyards, please visit http://www.breauxvineyards.com.