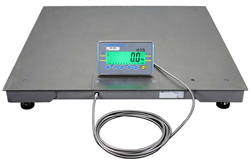 With rugged construction and washdown capability, the PT stainless steel platform scale is suitable for use in commercial, industrial, manufacturing, and mining applications.
Oxford, Connecticut (PRWEB) April 11, 2017
Adam Equipment, a leading manufacturer of weighing equipment for professionals worldwide, has added new stainless steel models to its series of PT platform scales. The new versions will be available in the United States, Latin America, and Germany.
The new PT stainless steel platform scale is rugged, durable, and features washdown capabilities, making it well-suited for commercial, industrial and mining applications. PT stainless steel platforms offer capacities up to 10,000lb/4,500kg and readabilities of 0.5lb/0.2kg and 2lb/1kg. They are available in three square pan sizes of 1000mm/ 39in; 1200mm/47in; and 1500mm/59in.*
Ideal for weighing food products, chemicals, pharmaceuticals or mining materials, the PT stainless steel platform and load cells feature an IP66 rating for protection against water and dust. Easy to clean, the grade 304 stainless steel pan can tolerate frequent washing, while the sleek brushed surface helps prevent the accumulation of food and dirt particles.
A reinforced frame under the platform provides strength and support, so the scale can accommodate substantial loads. Offering solid, dependable stability, PT stainless steel's heavy-duty rubber feet adjust to compensate for uneven weighing surfaces. Optional ramps are customized to fit the exact size of the platform.
PT stainless steel platform can be paired with the Adam Equipment AE402 stainless steel indicator to provide the features and functions needed for any weighing task.
The AE402 indicator offers a range of features for numerous weighing applications. Built to be durable, the AE402 can handle demanding weighing tasks and performs well in a variety of environments. The stainless steel housing is IP66 rated to prevent against dust and water ingress. Its compact design means the AE402 can be mounted easily on a wall with the included bracket and hardware. The large backlit display features an easy-to-use keypad with highlighted tare key, checkweighing limit LED, and low-battery indicator. Date and time are supplied by the indicator and included in printouts.
*Availability of certain models varies by region. For more information about PT stainless steel platform scales, visit http://www.adamequipment.com/pt-stainless-steel-platforms.
About Adam Equipment
For more than 40 years, Adam Equipment has designed and manufactured precision balances and scales for professionals worldwide in the laboratory, medical, education, industrial, food, animal/veterinary and jewelry markets. Adam is committed to offering an extensive selection of weighing equipment with best-in-class value. Headquartered in the United Kingdom, the company has strategically established offices in the United States, South Africa, Australia, China and Germany to provide product support and speedy delivery to distributors. For more information about the company and its products, go to http://www.adamequipment.com.