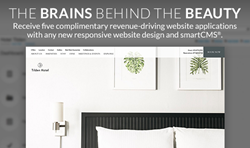 A hotel website needs to be so much more than a pretty face for the property; it needs technology powering it that is built to drive direct hotel bookings.
New York, NY (PRWEB) April 08, 2017
A successful hotel website must incorporate the right balance of excellent design with technology that is built to drive direct hotel bookings. HeBS Digital, the firm that helps hoteliers boost direct bookings, lower distribution costs, and increase the lifetime value of guests, is offering hoteliers five complimentary revenue-driving modules with the purchase of a new responsive website backed by the firm's award-winning smartCMS®.
Hoteliers who take advantage of HeBS Digital's "Brains Behind the Beauty" promotion will receive five revenue-driving modules, at no additional cost. Choose from:
•Smart Personalization: Deliver unique and relevant textual, visual, and promotional content to site visitors based on demographics, geo location, website behavior, guest preferences, loyalty program status, customer segment, and more.
•Reservation Abandonment Application Suite: Win back a portion of the 98% of website visitors who abandon a reservation with a suite of direct bookings-focused applications. This module improves website conversion rates by a minimum of 25%.
•Rooms Showcase Module: Feature hotel rooms in a highly visual display, allowing the visitor to easily compare options. The Rooms Showcase Module can be used to upsell rooms, speak to specific customer segments, and highlight room features.
•Smart Booking Widget: Increase conversion rates by displaying relevant search and availability information to the visitor. The Smart Booking Widget pre-populates based on property needs and the visitor's previous entries, improving user experience and leading to more direct bookings.
•Smart Rates: Dynamically pulls the real-time rates for the closest available, today/tomorrow, or weekend dates. Showing live rates before a user enters the booking engine will push users to complete the travel planning journey by booking direct with your hotel.
"A hotel website needs to be so much more than a pretty face for the property; it needs technology powering it that is built to drive direct hotel bookings," said Max Starkov, President & CEO of HeBS Digital. "Without the right technology powering the hotel website, hoteliers not only fail to engage, retain, and acquire past and future guests, but seriously jeopardize direct revenue in this time of flattening occupancy rates and increased distribution costs. We created over 30 modules in the smartCMS® to help hoteliers decrease OTA dependency while increasing direct website revenues and customer engagement."
The five complimentary modules are only available to hoteliers for a limited time. To learn more, click here.
About HeBS Digital
Through its Smart Guest Acquisition Suite, including the smartCMS®, Smart Personalization Engine, Smart Data Marketing, and full-stack digital consulting and marketing solutions, HeBS Digital helps hoteliers drastically boost direct bookings, lower distribution costs, and increase lifetime value of guests. Founded in 2001, the firm is headquartered in New York City and has global offices in Las Vegas, London, Europe, Singapore and Auckland. A diverse client portfolio of top-tier luxury and boutique hotel chains, independent hotels, resorts and casinos, franchised properties and hotel management companies, convention centers, spas, restaurants, DMO and tourist offices across the globe are all benefiting from HeBS Digital's direct online channel strategy and digital marketing expertise.
Part of Hotel360 Technologies, HeBS Digital and Serenata, the most comprehensive hotel CRM platform today, are launching the hospitality industry's first Fully-Integrated 360-Degree Guest Engagement & Acquisition Platform.
HeBS Digital's technology, website design and digital marketing services have won more than 400 prestigious industry awards, including World Travel Awards, HSMAI Adrian Awards, Stevie Awards (American Business Awards), Travel Weekly's Magellan Awards, and more.
The HeBS Digital team is comprised of thought leaders, a diverse team of experts comprised of over 33 nationalities speaking over 22 languages. Contact HeBS Digital's consultants at 1 (800) 649-5076 (North America), +44 (0) 7730 779 213 (London), +64 (0) 9 889 8489 (Australia, New Zealand, South Pacific), +65 9005 1589 (Asia), or success(at)hebsdigital(dot)com.
Editorial Contact:
Mariana Mechoso Safer
SVP - Marketing, HeBS Digital
Phone: (212) 752-8186
Email: mariana(dot)hebsdigital(dot)com