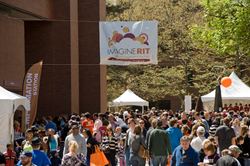 Rochester, NY (PRWEB) April 06, 2017
Imagine what can happen when an idea evolves into one of the community's most exciting free festivals.
More than 30,000 people are expected to flock to the Rochester Institute of Technology's Henrietta campus on Saturday, May 6, to participate in the 10th annual Imagine RIT: Innovation and Creativity Festival. Since 2008, the festival has hosted some 270,000 visitors.
The nationally acclaimed festival returns with nearly 400 examples of innovation and creativity from RIT students, faculty and staff, all showcased through interactive exhibitions, demonstrations and live performances.
This year's highlights include:

Dr. Destler's Health Innovation Challenge: The RIT president's annual challenge asks participants to form teams that create something that fills an unmet need or demand in health care, anything form an app that tracks habits to a product that promotes health. Entrants are asked to describe the user experience with their creation, as well as the foreseeable commercial impact of their concept, and challenges to creating or delivering it. The competition runs from 8:30 to 10 a.m. in Clark Gymnasium. Winners could receive $1,000 or a banjo from the prized collection of RIT President Bill Destler.
Farewell to Dawn: Two dancers in separate physical spaces wear Augmented Reality glasses so that they can perform together as motion controlled avatars in the same virtual world.
ShingleBot: A robotic shingle removing system controlled via Bluetooth remote controller. 
An out-of-this-world preview of The Great American Eclipse, a total solar eclipse expected across the United States on Aug. 21.
Theme Park Engineering 3.0:  This attraction, back for its third and final year, promises to be even bigger and better.
Opening ceremonies are at 10 a.m. in Simone Circle, and the exhibits will remain open until 5 p.m. A variety of food, entertainment and children's activities combine to make the event a fun, family-friendly environment.
D&C Digital is the Media Sponsor for Imagine RIT. Silver sponsors include Coca Cola, Dinosaur Bar-B-Que, GM, Harris Corp. and Rochester Regional Health.
Festival admission is free, and parking is available on the RIT campus. There is also free shuttle service offered from Monroe Community College. Visitors can go to the RIT website's Plan Your Day to view exhibits.