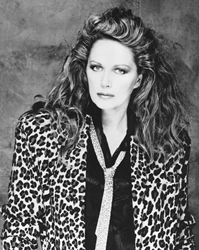 Before the REAL HOUSEWIVES, there were the HOLLYWOOD WIVES.
BEVERLY HILLS, Calif. (PRWEB) April 18, 2017
With more than 15 million copies sold worldwide, Jackie Collins's 1983 released HOLLYWOOD WIVES, her ninth and most successful novel, will finally make its digital debut in the US/Canada. On April 18, 2017 Simon & Schuster will release the eBook version of the novel available on all digital retail platforms in the U.S. and Canada. HOLLYWOOD WIVES will be on sale for $1.99 for a limited time.
Well before the "Real Housewives" became the talk of the town, there were the kinky, hot and glamorous HOLLYWOOD WIVES whose scandalous behaviors kept readers up all night. A television miniseries was adapted by fellow legend Aaron Spelling in 1985. It was a ratings hit and considered to be one of the most successful mini-series of all time. In 2007 the NEW YORK TIMES noted that since the publication of HOLLYWOOD WIVES the misbehavior and materialism chronicled had become the 'American norm' saying the whole country has turned into a Jackie Collins novel.
With readers intrigued, titillated and wanting more stories of the rich and famous, Collins continued to write several "Hollywood" themed books, including HOLLYWOOD HUSBANDS (1986), HOLLYWOOD KIDS (1994), HOLLYWOOD WIVES: THE NEW GENERATION (2001), and HOLLYWOOD DIVORCES (2003).
Collins's bestselling novels HOLLYWOOD WIVES: THE NEW GENERATION, HOLLYWOOD DIVORCES, THRILL!, and DEADLY EMBRACE will also be available for E-readers in the U.S. and Canada on April 18 for the first time. DEADLY EMBRACE features reader favorite character Madison Castelli.
"We're excited that more of our mother's novels will be available as eBooks, ready to be discovered by a whole a new generation of readers who can be inducted into the deliciously decadent Jackie Collins experience" said Rory Green, Collins's daughter.
In addition, Collins's bestselling nine-novel series based around mob daughter Lucky Santangelo is headed for the big screen. Universal Pictures has acquired the book series, which will be produced by Monumental Pictures and Working Title Productions.
For more information about Jackie Collins and her books, visit jackiecollins.com.
###
About Jackie Collins
Jackie Collins is one of the world's top-selling novelists. With more than 500 million copies of her books sold in more than 40 countries and 31 New York Times bestsellers to her credit, she is known for giving her readers an unrivaled insider's knowledge of Hollywood and the glamorous lives (and loves) of the rich, famous, and infamous!