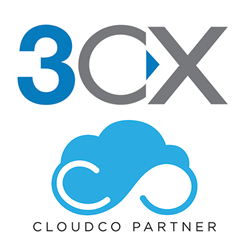 "3CX & CloudCo Partner will be offering a groundbreaking Cloud PBX exclusively for the channel."
Buffalo, NY (PRWEB) April 10, 2017
3CX, developer of next-generation software-based Unified Communications Solution and CloudCo Partner, an industry leader in hosted telephony services with a global network of channel partners, today announce that CloudCo Partner will host 3CX for 3CX Partners around the world.
3CX will be added by CloudCo Partner to its own cloud-based hosting platform. Partners can host their 3CX licenses comfortably knowing they are running in a T4 rated data center backed by a 24/7/365 NOC and 99.99 % uptime guarantee.
By providing superior architecture and flexible, customizable delivery options, hosted 3CX removes all the barriers that have been blocking the hosted PBX market. 3CX in the cloud is a fully virtualized instance, with its own set of dedicated PBX services, as well as completely separate data stores.
"3CX in the cloud is not a multi-account system, it's a fully-virtualized instance of 3CX Phone System with dedicated PBX services for each customer and complete data separation which sets it apart from old style hosted PBX," said Nick Galea, CEO of 3CX.
CloudCo's partners will see that with 3CX in the cloud, customers will have a dedicated PBX separated from, and unaffected by, other tenants. In addition, they will have access to all the features of the on-premise version, such as web conferencing, instant chat and presence, offering superior service and greater mobility.
"CloudCo Partner is excited to become a U.S. hosted IaaS distributor for 3CX. Along with an affiliation to 3CX's largest and longest-standing U.S. distributor 888VoIP, our team has over ten years of experience working with 3CX," said Mike Evanisko, Press Officer from CloudCo Partner, "Continuing our trend of 3CX focused offerings we have launched our managed 3CX Private Cloud solution which will enable 3CX partners to rapidly and profitably sell 3CX within the growing cloud market."
3CX, in combination with CloudCo's hosting services, is a more channel-friendly product which offers resellers new ways to benefit from the market:

Leaves reseller in complete control of customer account.
Offers reseller a real-time billing and service dashboard
Ample scope for sales of add-on services, hardware and integration.
Ability to offer on-premise or hosted deployment as customer prefers.
Obtain the best priced Hosted PBX solution in the market.
Ability to choose from a large number of supported IP phones
Ability to integrate mobile devices as alternatives to IP phones.
Free training and support.
Resellers will also enjoy the increased flexibility as they have the option of buying virtual instances hosted by CloudCo, one by one, month by month with no commitments allowing them day 1 profitability. This along with the option to purchase purely at wholesale rates and self-manage the servers allows partners to be much more scalable and flexible than the past thus being a more profitable solution.
This partnership between 3CX and CloudCo opens doors for resellers who have felt that hosting 3CX themselves was not a possibility. They will now be able to offer their customers a virtual service which will give them, and their customers, maximum flexibility and quality.
For a limited time, CloudCo will be offering 3CX partners with their first month of service free. In addition, all set-up fees when either moving existing clients or onboarding new installations will also be free.
About 3CX:
3CX is a 100-percent channel company and is the developer of 3CX Phone System and 3CX WebMeeting. 3CX Phone System for Windows is a software-based open standards platform that innovates communications and replaces proprietary PBXs. 3CX Phone System cuts telco costs and boosts company productivity and mobility with the 3CX Phone clients for iOS, Android, Mac and Windows.
3CX WebMeeting is a hassle-free Web conferencing solution that leverages WebRTC technology, eliminating the need for any plug-ins or clients. Browser-to-browser communication and click2call, as well as advanced online classroom features, are just a few of the popular features of 3CX WebMeeting.
With 30,000 customers worldwide, some of the world's leading companies and organizations use 3CX Phone System, including Boeing, McDonald's, Hugo Boss, Ramada Plaza Antwerp, Harley Davidson, Wilson Sporting Goods and Pepsi. Maintaining its global presence, 3CX has offices in the U.S., U.K., Germany, Hong Kong, South Africa, Russia and Australia. Visit 3CX on Facebook, Twitter, and Google+.
About CloudCo Partner:
CloudCo Partner, a channel-focused cloud services distributor, is transforming the way resellers deliver cloud software & services to their customers. Providing personalized sales and technical training along with high-quality support and services enables our partners to enter the cloud market rapidly and achieve day one profitability. Through redefining the way cloud products and services are sold CloudCo Partner has created a truly unique model where our partners are in full control of their margins. Offering innovative products & solutions along with the advanced tools such as our white labeled automated billing platform empowers all CloudCo Partners to compete in the expanding cloud services market successfully and profitably.