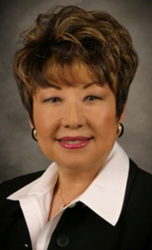 It is an honor to be selected to speak at these distinguished events ... to share my expertise in the global market.
SARATOGA, Calif. (PRWEB) April 07, 2017
Michi Olson, vice president of global business development & relocation for Alain Pinel Realtors, was chosen to speak at two of the real estate industry's most exclusive professional events. With experience working with clientele in the U.S. and Asia, Olson provided insight on professional development and how to achieve success with global buyers to more than 2,000 global real estate professionals attending both events.
Speaking at the LeadingRE annual conference, held at the Fontainebleau Miami Beach from March 1 through 3, Olson delivered a presentation entitled Relo® Quality Certification: Prepare for Greatness. Additionally, Olson was selected to provide a presentation at the Luxury Portfolio SUMMIT entitled Growing your Business with Global Buyers, which was held at the Fontainebleau Miami Beach on Feb. 28. 
"It is an honor to be selected to speak at these distinguished events. I am thrilled to share my expertise in the global market with my colleagues," Olson said. "Having worked with global luxury buyers outside of the United States, it is evident the investment opportunity, lifestyle and access to good schools in the U.S., and Northern California in particular, remain attractive to foreign buyers."
International relocation services, led by Olson, have been a core offering of APR for more than a decade. As such, the brokerage frequently sends groups of its Realtors and leadership team members to China to gather current information on Chinese consumer habits, regional and national economic trends and the interests of the country's international home buyers.
 
About Alain Pinel Realtors®
Alain Pinel Realtors (APR) is the sixth largest residential real estate firm in the United States and the largest privately owned residential real estate company in Northern California based on its closed-sales volume. The firm has 1,400 agents in more than 30 offices throughout Northern California. APR was founded in 1990 by CEO and President Paul L. Hulme, and is based in Saratoga, Calif. Visit us at apr.com, china.apr.com, facebook.com/AlainPinelRealtors, and @AlainPinel.