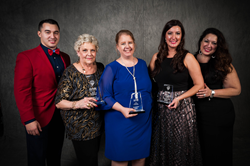 CHICAGO (PRWEB) April 08, 2017
RE/MAX recently honored one of its franchise affiliates and three of its brokers for the leadership they have shown in applying the capabilities of new technologies to a range of real estate industry challenges. The awards were presented at the 40th Annual RE/MAX Northern Illinois Awards Ceremony at Navy Pier.
The Excellence in Technology Award was shared by RE/MAX 10, which has five offices, two in Chicago and one each in Oak Lawn, Palos Park and New Lenox, Ill., and by two brokers with RE/MAX Professionals Select of Naperville, Ill., Fabio Brancati and Scott Gerami. The other technology honoree was Jorge Vigil of RE/MAX Vision 212, Chicago, who captured the annual Mobile App Usage Award as well as the award that goes to the broker with the most visited website.
RE/MAX 10 was recognized for its contributions to helping RE/MAX Northern Illinois test and utilize new technological innovations. Throughout 2016, the RE/MAX 10 organization worked tirelessly to get up and running a new software platform designed to improve office efficiency in all five of its offices so that it could be thoroughly tested and fully implemented by year end. Their efforts benefitted their own company, and this new tech tool is now positioned to provide comparably enhanced performance to other RE/MAX franchisees throughout northern Illinois.
Brancati and Gerami won the Excellence in Technology Award for their ability to integrate both new and existing technology into office operations. They were cited for their willingness to embrace technological advances, including the use of drones for aerial photography of properties and of 3D home tours in their online listings, as well as for their willingness to assist fellow brokers in implementing those and other technological tools into their day-to-day operations.
The two honors won by Vigil are intertwined thanks to his exceptionally effective use of both the newly enhanced RE/MAX Northern Illinois mobile app and his RE/MAX branded website to promote his business. He was so effective in promoting the use of those two tech tools that his website ranked first in monthly visitors throughout the year, reaching an annual total of 154,000.
RE/MAX agents consistently rank among the most productive in the industry. In 2015, RE/MAX Northern Illinois agents averaged 18 transaction sides. RE/MAX has been the leader in the northern Illinois real estate market since 1989 and is continually growing. The RE/MAX Northern Illinois network, with headquarters in Elgin, Ill., consists of more than 2,250 sales associates and 103 independently owned and operated RE/MAX offices that provide a full range of residential and commercial brokerage services. Its mobile real estate app, available for download at http://www.illinoisproperty.com, provides comprehensive information about residential and commercial property for sale in the region. The northern Illinois network is part of RE/MAX, a global real estate organization with 110,000+ sales associates in 100+ nations.
####
EDITOR'S NOTE: RE/MAX® is a registered trademark. Please spell in all caps. Thank you. This release is posted at blog.illinoisproperty.com.