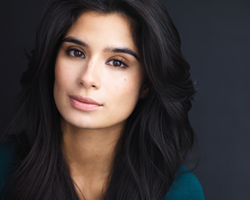 Salt Lake City, Utah (PRWEB) April 07, 2017
Salt Lake Community College will honor graduates during commencement ceremonies May 5, 9:30 a.m. at the Maverik Center in West Valley City.
This year's keynote speaker will be Diane Guerrero, known for her roles in the Netflix series Orange is the New Black and The CW Network series Jane the Virgin. Guerrero was raised in the Jamaica Plain and Roxbury neighborhoods of Boston after being taken in by other Colombian families. She had an interest in acting since a young age and took advantage of free opportunities in the neighborhood or at school. Then she attended Boston Arts Academy, a performing arts high school, where she was in the music department. In 2015, Guerrero was named a White House Ambassador for Citizenship and Naturalization. She is an outspoken advocate for common sense, comprehensive immigration reform and has worked with Immigrant Legal Resource Center and Mi Familia Vota, a nonpartisan Latino civic engagement organization to promote citizenship and voter registration. Variety named her one of the top 10 Latina actresses to watch.
SLCC's 2017 honorary doctorate recipients are H. Roger Boyer, chairman of The Boyer Company as well as its director and advisor, and the Honorable Shauna Graves-Robertson, who was appointed to the Salt Lake County Justice Court by the Salt Lake County Commission in January 1999. Boyer received his Bachelor of Science degree at the University of Utah and his Master of Business Administration from Harvard Graduate School of Business Administration. Graves-Robertson graduated from Arizona State University in 1980 with a Bachelor of Science degree in Criminal Justice. Judge Graves-Robertson received a Master of Arts in Public Administration in 1987 and Juris Doctor from the University of Utah in 1990.
Lisa Gough, vice president of Sysco, and Shawn Newell, vice president of business development for Industrial Supply Company, were named Distinguished Alumni. Gough received her associate's degree in business from SLCC in 1995 and a bachelor's degree in accounting from the University of Utah in 1997. She earned a Master of Business Administration degree from Westminster College in 2007. Newell earned an associate's degree in marketing management from SLCC and his bachelor's of science degree in sociology from the University of Utah. Newell also earned a master's degree in management from the University of Phoenix.
Salt Lake Community College is an accredited, student-focused, comprehensive community college meeting the diverse needs of the Salt Lake community. Home to more than 61,000 students each year, the College is Utah's leading provider of workforce development programs. SLCC is also the largest supplier of transfer students to Utah's four-year institutions and a perennial Top 10 college nationally for total associate degrees awarded. The College is the sole provider of applied technology courses in the Salt Lake area, with multiple locations, an eCampus, and nearly 1,000 continuing education sites located throughout the Salt Lake Valley. Personal attention from an excellent faculty is paramount at the College, which maintains an average class size of 20.