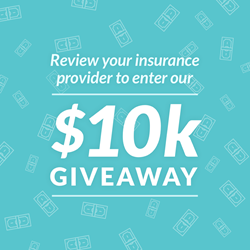 Clearsurance, a crowd-sourced insurance review website, is awarding up to $1,000 in payment towards your 2017 – 2018 insurance policy! We'll award a total of 10 winners to help offset the cost of insurance for the most compelling review.
Newburyport, MA (PRWEB) April 07, 2017
Clearsurance, the first-of-its-kind crowdsourced insurance review and rating platform, today announced that it is awarding a total of $10,000 for user-submitted stories about insurance experiences.
Anyone who has ever had to file an insurance claim knows that there is always a story leading up to the claim. They also know that whether the outcome of that story was a bad one or a good one is largely determined by how the claim was handled.
Clearsurance is asking people to submit their stories of the times when their insurance company came through for them, or not. In other words, did your insurance company have your back?
Ten winners will be awarded up to $1,000 each in reimbursement towards their household auto, home or renter's insurance expenses. Clearsurance will select two winners—one for Auto and one for Property (home and renters)—in each of five categories:

Best Overall,
Most Compelling and Helpful,
Service above and beyond Expectations (for an insurance carrier),
I Can't Believe That Actually Happened! (this claim even shocked the adjuster), and
A Picture is Worth a Thousand Words.
To win, people must tell their auto or property insurance story on the Clearsurance website by submitting a review of their experience. Winners will be awarded based on a point system, using an aggregate score of clicks indicating the review is helpful, comments, and photos or videos submitted on the Clearsurance website. Users are encouraged to share the link to their review on social media, and ask their friends and family to go to the Clearsurance site and rate their review as helpful. For contest rules, please visit this link. Contest submissions open on April 2, 2017, and users can submit stories through June 30, 2017. Clearsurance will announce ten winners in mid-July 2017.
About Clearsurance: Clearsurance is on a mission to bring new transparency, insights, and metrics to the insurance industry. Based in Newburyport, MA, the company provides the most comprehensive, independent, and trustworthy rating system for insurance companies, helping consumers make better, more informed insurance purchasing decisions. For more information, visit http://www.clearsurance.com
# # #