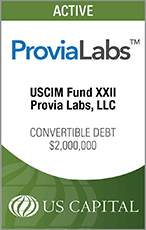 Provia's role is to make sure its clients have these cells in the future when they need them for those successful therapies – a valuable service, solid science, and good business.
Littleton, MA (PRWEB) April 06, 2017
Provia Laboratories LLC (Provia) engaged US Capital Partners Inc. (US Capital) as its strategic advisor for a $2M capital raise. Details available at http://www.provialabs.com/investor-relations. Provia will use the new financing primarily to expand its sales and marketing activities and general working capital as the business grows and develops new products and services. US Capital recently completed an in-depth market review and due diligence evaluation of Provia, prepared the offering documents, and has begun raising capital from its large network of investors.
Provia focuses on working with stem cells for autologous use (cells from you, for you). Under the brand Store-A-Tooth, Provia offers a service for families to preserve the valuable mesenchymal stem cells found in their children's baby teeth and wisdom teeth for their future stem cell therapy needs. Mesenchymal stem cells (MSCs), like those found in teeth, are different than those collected from umbilical cord blood as they can differentiate into cells for repair and regeneration of bone, cartilage, tendon, nerve, and heart tissue – making them relevant to the rapidly growing field of regenerative medicine. MSCs are the most published type of stem cell (BioInformant), more so than controversial embryonic stem cells or even the hematopoietic stem cells found in bone marrow and umbilical cord blood.
In addition to the Store-A-Tooth service, Provia's state-of-the-art cGMP stem cell laboratory provides the research community with cell and tissue related products and services and has a pipeline of products in development to serve the personalized/autologous cell and tissue therapeutics space.
US Capital is a private investment bank headquartered in San Francisco. Through its affiliate broker dealer, US Capital Global Securities, LLC, the firm facilitates equity private placements, makes direct debt investments, participates in debt facilities, and has a wide distribution for these services and financial products for small and medium-sized businesses.
"As the field of regenerative medicine develops, there are relatively few opportunities for investors to translate the incredible scientific potential of stem cells, regenerative medicine, and specifically autologous treatments into a clear return on investment. Stem cell banking and manufacturing, such as for the regenerative stem cells found in teeth, represent a way to do that," says Howard Greenman, CEO of Provia Laboratories. He added, "Unlike traditional therapeutic development whereby the discoverer and developer of the therapy yields the largest returns, with autologous stem cell and tissue therapies, the larger economic opportunities may lie in the procurement of the cells, the preservation of the cells, and the manufacturing of the cells into therapeutic products. Provia's role is to procure, bank, and manufacture cells and tissues for current and future autologous therapies – valuable services, solid science, and good business."
"US Capital is extremely pleased to be assisting Provia with its business financing needs in a strategic investment banking role, as the company moves into the next phase of its business expansion," said Jeffrey Sweeney, Chairman and CEO at US Capital Partners. "The opportunity to participate in Provia's $2 million financing raise is now open to eligible investors through our digital investment platform, available at http://www.uscgs.com".
About Provia Laboratories, LLC
Provia is a revenue-generating stem cell processing, manufacturing, and bio-storage company with a leading position in dental stem cell storage and related services. Provia's primary service, Store-A-Tooth™, provides private storage of stem cells from children's teeth for future use in the child's personalized regenerative medicine. Store-A-Tooth™ is a similar service to cord blood stem cell banks like ViaCord (purchased by PerkinElmer) and Cord Blood Registry (purchased by AMAG Pharma). Provia has a proprietary set of protocols for cell processing, expansion, validation, and cryopreservation. Provia's laboratory provides these services under FDA guidelines for current good manufacturing practice (cGMP) for human cell and tissue products. http://www.provialabs.com or http://www.store-a-tooth.com.
About US Capital Partners Inc.
Since 1998, US Capital Partners has been providing well-structured, custom finance solutions to private and public companies in the United States and abroad. Headquartered in San Francisco, US Capital Partners, operating with its affiliate US Capital Global Securities, LLC, is a full-service private investment bank with a wide distribution for debt and equity private placements. The group makes debt investments between $500,000 and $100 million, participates in debt facilities, and offers asset management, financial advisory services for buy-side and sell-side engagements, and capital formation, including early-stage financings requiring equity or debt. For more information, visit http://www.uscapitalpartners.net.