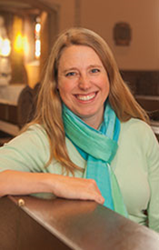 How can our Catholic institutions fully live up to our theological principles about Islam, and what would it mean for a Catholic institution to help nurture the spirituality of a Muslim?
Boston, Mass. (PRWEB) April 07, 2017
Emmanuel College Associate Professor of Theology and Religious Studies Laurie Johnston, Ph.D. has received a Fulbright grant to teach and research at the Catholic University of Leuven in Belgium. During the spring semester of 2018, Johnston will study the relationship between Catholic educational institutions and Muslim students in Belgium. She will also teach a graduate level course on ethics and international relations.
The focus of Johnston's research grew out of work she is currently engaged in while on sabbatical from Emmanuel. "I became interested in this topic from reading about European institutions and their relations to Islam," she says. According to Johnston, "the integration of Muslims is a challenging and fraught topic for European countries," and it has had a profound impact on some Catholic schools. For example, she says that in France "some Catholic schools have predominantly Muslim student populations because they allow students to wear the veil, whereas secular schools do not."
For Catholic institutions, she says, working with large Muslim populations presents "both challenges and opportunities." Catholic religious doctrine, she explains, "says that we greatly respect and esteem the faith of Muslims, and we worship the same god." Still, she asks "how can our Catholic institutions fully live up to our theological principles about Islam, and what would it mean for a Catholic institution to help nurture the spirituality of a Muslim?"
Johnston will explore these questions and also investigate if Catholic institutions in Europe can serve as "a kind of mediating presence between the hardline secularists and religiously observant Muslims." She will also look to see if the European experience offers any lessons for Catholics in the United States, a place where anti-Islamic rhetoric has been on the rise.
Although this is Johnston's first Fulbright award, she has been involved with the Fulbright U.S. Student Program for several years. Johnston serves as Director of Fellowships and Scholarships, and she has been instrumental in helping Emmanuel students apply for and win Fulbright scholarships and other awards. Over her past five years as Director, Emmanuel has had a Fulbright U.S. Student Program winner every year. In addition, Emmanuel produced two Fulbright U.S. Scholars in 2015-2016--more than any other bachelor's institution in New England. For these accomplishments, the Fulbright Program named Emmanuel a Fulbright U.S. Scholar Top Producer" for 2015-2016.
"Professor Johnston has done an extraordinary job spearheading our Fulbright efforts with students," said Emmanuel's Vice President of Academic Affairs and Dean, William C. Leonard, Ph.D. "Her own Fulbright award is well-deserved and a testament to the groundbreaking nature of her research and scholarship."
The Fulbright Program is the flagship international educational exchange program sponsored by the U.S. government and is designed to build relations between the people of the United States and the people of other countries to solve global challenges. The Fulbright Program is funded through an annual appropriation made by the U.S. Congress to the U.S. Department of State. Participating governments and host institutions, corporations, and foundations around the world also provide direct and indirect support to the Program, which operates in over 160 countries worldwide.
About Emmanuel College
Located in the heart of Boston, Emmanuel inspires students to dream big and work hard as they discover—and begin to fulfill—their life's purpose. Home to 2,000 undergraduate and graduate students from across the nation and around the world, the College provides boundless opportunities for students to expand their worldview through rigorous coursework, collaborations with distinguished and dedicated faculty, participation in a vibrant campus community, and countless internship and career opportunities throughout the Boston area and beyond. Emmanuel's more than 50 programs in the sciences and liberal arts foster spirited discourse and substantive learning experiences that honor the College's Catholic educational mission to educate the whole person and provide an ethical and relevant 21st-century education. For more information, visit http://www.emmanuel.edu.