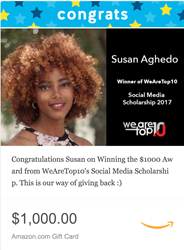 Our goal is to help people whether they are buying the latest gadgets or home products, run a business, or are a student," added Hafiz. "It is the ideal way to give back to the industry.
Miami, Florida (PRWEB) April 10, 2017
WeAreTop10 is pleased to announce the first winner of its social media scholarship for college and graduate students. On March 21st, the company announced that Susan Aghedo, who will be pursuing a BFA in Writing at Pratt Institute from this fall, won the $1,000 prize for submitting an essay covering key social media issues and how it can be used in a positive way. The scholarship prize was awarded in the form of an Amazon.com gift card.
Entrants were required to do their own research and submit a 500- to 1,500-word essay. The topic assigned was "What is the impact of social media on our generation, and how can we use it to play a positive role?" In addition to covering social media's positive role in society, the essay topic called on students to talk about the impact it has on millennials and generation Z. All entrants were required to be enrolled in a two- or four-year college or university in the U.S., and be enrolled in a journalism, communications, business, IT, or marketing program.
WeAreTop10: Helping Students Explore Digital Marketing
Hafiz Muhammad Ali, founder of WeAreTop10, said in an earlier release, "I believe in the power of education, and I know that higher education is an important part of creating a strong and successful group of future digital marketing professionals that will lead innovation in social media and digital marketing for years to come."
The goal of the program is to help students afford the necessities for pursuing their education. By encouraging them to research and write about social media and its current impact on society, the company aims to help people realize the potential in the realm of digital marketing. Social media can be used to engage people in conversation by being creative and getting their attention. It's also available on multiple platforms, from a range of operating systems to all types of devices that people carry with them. By creating the scholarship, WeAreTop10 aims to connect creative minds with the marketing industry and contribute to educating them about applying technology and traditional marketing strategies in the digital space.
The company has also created the Cyberbullying Prevention for Teens Scholarship. This program also awards winners $1,000 towards their education. It is open to undergraduate, postgraduate, and high school students with an interest in marketing, journalism, IT, business, or communications.
Still the Best in Product Reviews
An education in digital marketing isn't the only focus of WeAreTop10. The company is still focused on providing in-depth reviews, according to what readers need and can afford. Reviews of home products for the kitchen, bathroom, bedroom, garage, and lawn and garden are available online. The company's website includes many "best of" reviews of top home appliances, electronics, and health and fitness products as well as offices supplies and automotive products.
The WeAreTop10 website also features a number of buying guides that detail all the considerations and types of products in each category covered. Visitors can read up on the best ways to buy home heaters, microwaves, coffee makers, yoga gear, and more. Another section is a haven for infographics readers. Entries include "How 16 Successful Business Leaders Start their Day", "The Evolution & Future of the Work Desk", and "How to Create a Successful YouTube Channel."
People can read the reviews that cover products currently sold on the Web. Below each review, they can click on a link to the product and buy it or add it to their cart. Best of all, a reader can see the write ups for items within their desired price range.
"Our goal is to help people whether they are buying the latest gadgets or home products, run a business, or are a student," added Hafiz. "It is the ideal way to give back to the industry."
About WeAreTop10
Reviewing the top 10 products across many different product categories and industries, WeAreTop10 has become one of the most trusted websites in its class. It was founded by entrepreneur Hafiz Muhammad Ali, with the goal of empowering consumers to make informed purchasing decisions. The researched and handpicked lists on the website cover top home, health, outdoors, electronic, office, and automotive products and more in a variety of price brackets.