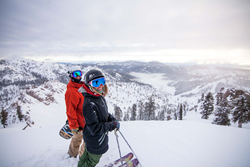 Conditions have been amazing
Petaluma, CA (PRWEB) April 07, 2017
Spring is here, so plan for the last day of the winter season – or prepare for many more months of skiing and snowboarding in California and Nevada.
Many of Ski California's 29 member resorts have announced extended seasons thanks to record snowfall and excellent conditions. Some resorts with several feet of base, such as Mammoth Mountain and Squaw Valley | Alpine Meadows, plan to stay open for skiing until at least July 4.
"An epic snow year means California will see skiers and riders from all around the world getting in their last runs well past spring at multiple resorts," said Michael Reitzell, President of the California Ski Industry Association (Ski California). "The conditions have been amazing and all resorts have enjoyed a long season."
Easy links to all resort websites are found at skicalifornia.org/member-resorts/.
Below are the expected closing dates for California and Nevada resorts:
Northern California/Northern Nevada
Mt. Rose Ski Tahoe: May 29
Boreal Mountain Resort: April 23, ski/ride days June 10 and July 1
Sugar Bowl Resort: April 23 or later
Squaw Valley | Alpine Meadows: July 4
Northstar California: April 23
Heavenly Mountain Resort: April 30
Kirkwood Mountain Resort: April 16
Soda Springs: April 23
Tahoe Donner: April 16
Homewood Mountain Resort: April 16
Mt. Shasta Ski Park: April 16
Diamond Peak: April 23
Sierra-at-Tahoe: April 24
Tahoe Cross Country: April 16
Central California
Mammoth Mountain: July 4
China Peak: April 30
June Mountain: April 9
Bear Valley: April 23
Bear Valley Cross Country: April 16
Dodge Ridge: April 16 or 23
Southern California
Snow Valley: April 16
About the California Ski Industry Association (CSIA)
The California Ski Industry Association is a 501(c)(6) non-profit trade association representing 29 ski resorts in California and Nevada under the brand "Ski California." CSIA develops and maintains strong relationships with government officials, tourism groups, media, and ski industry leaders to advocate key industry related initiatives, including environmental stewardship, mountain safety, technical training, and public relations. CSIA monitors existing and proposed legislation to ensure that national and state legislators hear and consider the industry perspective on issues affecting mountain communities and businesses. CSIA researches, analyzes, and pursues safety while preserving the integrity of mountain sports and the natural environment in which they are enjoyed by millions each year.
NOTE: Photos are available for download under the Newsroom tab of the website: http://www.skicalifornia.org.