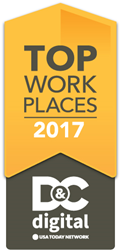 we are very proud to be honored in our home town, among some outstanding local workplaces
Rochester, New York (PRWEB) April 07, 2017
D4, LLC, an international leader in eDiscovery managed services, litigation support, computer forensics, document review and deposition solutions, has been recognized by The Rochester Democrat and Chronicle as a Rochester, NY Top Workplace for 2017.
"Everyone at D4 contributes meaningfully to our workplace, so this designation honors the entire team. For that, we are overjoyed," said John Holland, Founder and CEO of D4. "This award is not about dress-down days and parties on the rooftop, it's about our people knowing their genuine value to our clients, our company, and our community."
General Counsel and Senior Vice President, Human Resources, Michael Norris said "for a tech-based business, this people-centric recognition is incredibly rewarding." He said "we are very proud to be honored in our home town, among some outstanding local workplaces."
The Top Workplaces lists are based solely on the results of an employee feedback survey administered by WorkplaceDynamics, LLC, a leading research firm that specializes in organizational health and workplace improvement. Several aspects of workplace culture were measured, including Alignment, Execution, and Connection, among others.
Doug Claffey, CEO of WorkplaceDynamics, says "time and time again, our research has proven that what's most important to employees is a strong belief in where the organization is headed, how it's going to get there, and the feeling that everyone is in it together." Claffey adds, "without this sense of connection, an organization doesn't have a shot at being named a Top Workplace."
This is D4's first time participating in the nomination and evaluation process.
About D4
D4 is a leading provider of managed data and discovery services to law firms and corporations. D4 offers full-service capabilities with local infrastructure to support litigation, investigations, compliance and other legal matters. The company's state-of-the-art data centers and global operations are complemented by electronic discovery, computer forensics and document review offices throughout the USA, China and the UK. Depth of staff, experience and innovative technology allow the company to provide first-class performance worldwide.
D4 was one of the first providers to offer an eDiscovery Managed Services solution, and continues to lead the field in innovation. D4 became part of Special Counsel and the Adecco Group in 2016, enhancing D4's offerings with Managed Review and streamlined access to legal staffing. Visit http://www.d4discovery.com for more information.