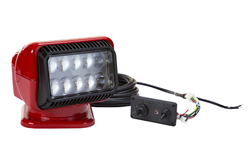 This Golight Radioray motorized LED spotlights ability to withstand rough conditions and demanding outdoor use makes it perfect for firefighters who don't have the time to worry about if their equipment is holding up or not
Kemp, TX (PRWEB) April 07, 2017
Larson Electronics LLC, a leading industrial lighting company, announced its release of a new motorized LED spotlight to be added to its expanding catalog of products. This motorized spotlight (GL-9021-RED) features a red colored housing that makes it ideal for fire fighters, volunteer fire fighters, fire trucks and fire departments.
The GL-9021-RED Golight Radioray Motorized LED Spotlight is designed for use in all weather conditions and produces 2,500 lumens of intense white LED light. These LED spotlights feature remote control operation which allows users to rotate the light 370 degrees with a hard stop, as well as, the ability to adjust vertical tilt through 135 degrees. Remote operation is provided by one hard-wired dash mounted remote control that operates through a 20 foot wiring harness.
This motorized LED spotlight is built with a weather resistant housing that is constructed of ASA Luran thermoplastic that is heat resistant, impact resistant, UV resistant and is built to withstand rugged use and abusive conditions. Remote movement of this spotlight is provided by an automotive grade internal motor, gear and transmission assembly that is constructed of LEXAN, brass and stainless steel to provide rust and corrosion resistance, as well as, long life and reliable operation.
"This red remote control spotlight has been engineered to hold steady in all types of weather conditions," said Rob Bresnahan, CEO of Larson Electronics." This Golight Radioray motorized LED spotlights ability to withstand rough conditions and demanding outdoor use makes it perfect for firefighters who don't have the time to worry about if their equipment is holding up or not."
About Larson Electronics LLC: Larson Electronics LLC is a manufacturer of industrial lighting equipment and accessories. The company offers an extensive catalog of industry-grade lighting and power distribution products for the following sectors: manufacturing, construction, food processing, oil and gas, military, marine and automobile. Customers can benefit from the company's hands-on, customized approach to lighting solutions. Larson Electronics provides expedited service for quotes, customer support and shipments.
High Res Image 1
High Res Image 2
High Res Image 3
High Res Image 4
High Res Image 5