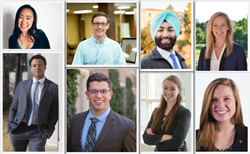 "This is a first look at some of the leaders who'll be shaping the discussions and decisions around business in the coming decades," says John A. Byrne, founder and editor of Poets&Quants and the former executive editor of Businessweek magazine and former
San Francisco, CA (PRWEB) April 10, 2017
Poets&Quants For Undergrads, the must-read website for undergraduate business education, has released its second annual "Best & Brightest Business Majors" feature, which honors 100 of the most accomplished seniors majoring in such fields as business administration, marketing, accounting, operations, and human resources.
"This is a first look at some of the leaders who'll be shaping the discussions and decisions around business in the coming decades," says John A. Byrne, founder and editor of Poets&Quants and the former executive editor of Businessweek magazine and former editor-in-chief of Fast Company."They are already so informed, creative, and versatile. I can't wait to see what they do after they graduate."
If this year's "Best & Brightest" class could be summarized in one word, it would be "impact." They were the scholars, advocates, volunteers, and mentors who often acted as the catalysts and consciences of their classes. Among this year's honorees, Washington University's Jessica Lanzberg opened a candy business to provide hands-on entrepreneurial experience for underclassmen. Arizona State's Juan Pablo Forno Parra launched a Children's Day that provides food, play activities, and support to unaccompanied minors to the United States. At the same time, the University of Michigan's Eric Katz piloted an award-winning sustainable Enterprise in Kenya that markets commercial-grade feed to increase farm production and cut harmful waste.
Such efforts have drawn accolades for this class. Northeastern's Jeremy Goldstein was named a Forbes 30 Under 30 Scholar in 2016, while Boston College's Angela Jin was named a finalist for Glamour magazine's College Women of the Year Award. The University of Southern California's Angela Zhou even pitched her non-profit initiative to the Clintons at a conference.
The 2017 "Best & Brightest" feature also includes in-depth profiles on each student in which honorees answer questions relating to their biggest lessons from business school, favorite executives and professors, dream jobs, and even the animal that best personifies them. "We didn't want just list bullet points that you could find on Linkedin," explains Jeff Schmitt, who organized and directed the "Best & Brightest" project. "We asked students to dig deep so readers could know why they pursued business, what they loved about it, and what they hoped to do with this knowledge. These students are role models. Our whole goal is to show potential business majors why it is such a valuable path — and what it takes to be successful in school and beyond."
To compile this year's Best & Brightest students, Poets&Quants reached out to 55 leading business schools, starting with programs listed in its exclusive 2016 Best Undergraduate Business Programs ranking. Overall, 49 programs responded, with faculty and administrators choosing two students per school based on "academic excellence, extracurricular leadership, personal character, innate potential, striking personal narrative, and overall impact on the program." Due to the popularity of the 2016 feature, the number of student profiles was doubled to 100 in 2017.
The "Best & Brightest Business Majors" is the first of a three-part series recognizing the top business students. In May, Poets&Quants will unveil its 100 "Best & Brightest MBAs." In June, Poets&Quants For Executives will honor the "Best & Brightest Executive MBAs." In March, Poets&Quants also profiled the 40 Most Outstanding MBA Professors Under 40. Starting in August, Poets&Quants will continue its series featuring the top incoming full-time MBA students at more than 40 leading business schools.
Here's how you can read the complete "Best & Brightest Business Majors for 2017."
Media Contact: Jeff Schmitt
Staff Writer
C-Change Media
(563) 495-2246