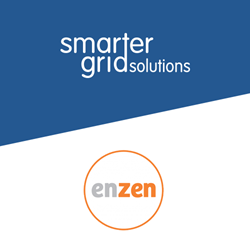 Through our partnership we are building a Centre of Excellence in Active Network Management to help our customers efficiently integrate, control and manage DER in real-time
(PRWEB UK) 7 April 2017
Smarter Grid Solutions (SGS) and Enzen Global Solutions (EGS) are delighted to announce a new partnership to bring SGS's Distributed Energy Resource integration products, as proven in North America and Europe, to new markets, including India. The agreement appoints EGS as an Approved Integrator for SGS products in India, Australia, the Middle-East and South Africa and builds on our existing working relationship in the UK.
The partnership was formally announced at the India-UK Energy for Growth Dialogue in Delhi, India by The Rt. Hon. Greg Clark, Secretary of State for Business, Energy and Industrial Strategy. The Dialogue, led by the Minister and Minister Piyush Goyal, Minister for Power, and New & Renewable Energy representing the Government of India, is aiming to promote partnerships and business opportunities for UK companies in India's fast growing energy sector. Investment of $3.6 trillion is being planned for the energy sector in India over the next 25 years.
Commenting on the agreement, Alan Gooding (Executive Vice President – Channel and Partners for SGS) said, "We are excited to be working with EGS and expanding the global reach of SGS. This partnership will allow utilities, including the Indian Distribution Companies, in places like India to benefit from our Distributed Energy Resource management products. These products have been proven to vastly improve grid efficiency and reliability, reducing the cost of renewable integration and maintaining electricity supplies, vitally important to the reduction of greenhouse gas emissions."
Dr. Uma Rajarathnam, VP and Head of Applied Research and Collaboration added, "Our focus at Enzen is to address the challenges in integrating high ingress of renewable, Distributed Energy Resources (DER) seamlessly into electricity grids. Through our partnership with Smarter Grid Solutions, we are building a Centre of Excellence in Active Network Management to help our customers efficiently integrate, control and manage DER in real-time and enhance the flexibility of the grid".