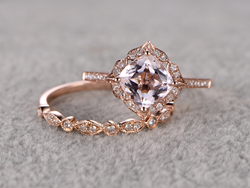 BBBGEM - Morganite And Rose Gold Still Trending Upwards
Edison,NJ (PRWEB) April 09, 2017
New Jersey Based BBBGEM has announced that the demand for the semi-precious gemstone Morganite has continued its strong upwards trend. The jewelry manufacturer and distributor has tracked demand and availability over the last two years. BBBGEM first noticed a sharp upturn in the market for Morganite early in 2015. There was some industry speculation during 2016 as to sustainability of the trend but as 2017 moves steadily on Morganite is gaining momentum.At the same time the trend for rose gold has hit an all-time high and shows no signs of slowing down.
Rose gold (a mix of gold and copper) saw early popularity in rings as well as cosmetic jewelry. Now it is seen as a trend setting icon. Now you have laptops, smartphones, trendy watches, glasses and much more. It is a rose gold obsessive society at the moment with social media fuelling the populist rose gold movement. It was early 2016 when BBBGEM started seeing a boom in morganite rose gold wedding set rings. As rose gold became more popular it was natural for rings featuring the complimentary marriage with Morganite to gain momentum.
The demand for Morganite is high due to its continued popularity as a soft pink gemstone. It is particularly complimentary to rose gold. This partnership has transformed it into a gem that represents romance and relationships. Morganite has been used as a semi-precious gemstone since 1911. Originally mined in Madagascar it became somewhat rarer after supply dwindled. Luckily by the time the Madagascar seams were spent it was being mined in three other locations in the world. A BBBGEM spokesperson commented that, "Morganite and rose gold is now sought after for rings that are purchased as a sign of love and commitment. With engagement rings, and relationship milestones being ever popular Morganite and rose gold is nowhere near its peak as yet. The perfect harmony of soft pink Morganite gems entwined with rose gold creates a pretty unique partnership of qualities. This makes it the perfect choice as it represents the personification of the giver and the receiver."
He added, "Prices for Morganite have fluctuated over the years however the carat size is not necessarily the prime factor at the point of sale. Small gems can sometimes be more valuable which adds vanity value to a larger 3 carat morganite ring. The perception is bigger costs more so showing an affordably large Morganite stone is very appealing. It should be remembered of course that pink diamonds are very sought after so assimilation is a positive factor."
About BBBGEM: Having their head office in New Jersey USA with further locations in Sydney Australia and Guang Zhou in China. Customer service is based in the US and Australia and the company are opening also in Germany. The company draws on experts from across the globe including CAD experts, jewelry craftsmen, photographers and top designers. With 15 years at the front of custom jewelry manufacturing BBBGEM is well placed to monitor the trends of precious and semi-precious gems. A company spokesperson said, "Morganite is now establishing itself as a must have gemstone even though it is a semi-precious gem."
To know more,you can visit https://www.bbbgem.com .