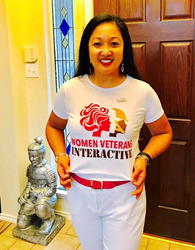 Inspiring! To be amongst women who have endured hardships and yet make a difference in the lives of other female Veterans! WVI transforms the lives of women Veterans in need and encourages a supportive network of sisters.
Washington, D.C. (PRWEB) April 08, 2017
Transitioning out of the military can be a daunting task. When coupled with depression, unemployment, Post-Traumatic Stress Disorder (PTSD), military sexual trauma and divorce, women veterans – many of them single parents – may also find themselves facing homelessness. According to the U.S. Department of Veterans Affairs, women veterans are the fastest growing population of homeless veterans and are at higher risk of homelessness than their male counterparts.
While there are services specifically for women veterans, to include services provided by the U.S. Department of Veterans Affairs (VA), women veterans are not signing up for these services the way that one would expect. Women Veterans Interactive has found that many women veterans do not know about these services or feel uncomfortable going into the VA simply because it has a reputation of being a male focused and male dominated institution. Therefore, WVI organized the Pink and White Breakfast Tour to help eliminate this problem.
The Pink and White Breakfast Tour is an interactive outreach event designed to go into the communities where women veterans live in order to meet them at their points of need. These high touch events inspire, empower and encourage women veterans to live their lives to the fullest after military service. The breakfast transcends a traditional breakfast gathering because it addresses the major issues and obstacles women veterans encounter and provides potential solutions on the spot. The women are equipped to overcome obstacles with resilience and grace. All attendees, if they have not already done so, are also encouraged to sign up for the benefits that they have earned. They are encouraged to take the first step and register with the U.S. Department of Veterans Affairs.
Attendees walk away from the event with a new sense of self-worth. They are educated and empowered to do more for themselves and their communities. The Pink and White Breakfast sessions give women veterans something they long for after leaving the military, and that is a network of sisterhood, comradery, and peer support. Women veterans are reminded that we are still a team and that we are not alone. Upcoming Pink and White Breakfast sessions are scheduled as followed:
•Huntsville, Alabama: April 15, 2017 at the Huntsville Westin Hotel
•New York City: April 29, 2017 in partnership with NYC Department of Veterans' Services
•Ft. Lauderdale, FL: Fall 2017 in partnership with Royal Caribbean Cruises Ltd.
Click here to register TODAY for the Huntsville, Alabama Pink and White Breakfast:
Click here and enjoy our 2016 Pink and White Breakfast Tour recap:
About Women Veterans Interactive (WVI)
Women Veterans Interactive is a national not-for-profit organization dedicated to serving and supporting women veterans and their families through Advocacy, Empowerment, Interaction, Outreach and Unification.
Recognized as experts on Women Veterans issues, our aim is to eradicate homelessness; improve healthcare and education delivery; and develop a network where there is a free exchange of experiences and solutions that will empower and assist women veterans in living full productive lives.
Since inception in 2011, Women Veterans Interactive has supported over 1500 women veterans and continues to meet women veterans at their points of need. For more information click here: [Women Veterans Interactive